Subsidized Annual Pass
Freedom and possibilities through transit
New and improved ORCA system is here!
You can continue to use your current card. Go to myORCA.com to update your account and learn more.
King County Metro and Sound Transit have partnered to create a new, subsidized annual pass program, allowing qualified riders to travel on select transit in our region with subsidized fares. The subsidized annual pass is valid for up to 12 calendar months and is renewable each year, provided eligibility requirements are met.
Eligibility & How to apply
Eligibility
Residents of King, Pierce, and Snohomish counties who are at or below 80% of the federal poverty level and are enrolled in one of six state benefit programs can obtain a subsidized annual pass valid for travel on King County Metro and Sound Transit services. Eligible customers can receive a subsidized annual pass at DSHS, Public Health, and Catholic Community Services across King, Pierce, and Snohomish counties.
Currently, the six state benefit programs are:
Temporary Assistance for Needy Families (TANF)/State Family Assistance (SFA)
Refugee Cash Assistance (RCA)
Aged, Blind, or Disabled Cash Assistance (ABD)
Pregnant Women Assistance (PWA)
Not to be confused with WIC or Pregnancy Medical
Supplemental Security Income (SSI)
Not to be confused with Social Security Income or SSDI
Housing & Essential Needs (HEN)
Not to be confused with housing assistance such as HUD
To apply or for more information about these programs, visit washingtonconnection.org or call (877) 501-2233. Expansions are expected in 2022 to serve more customers that have household incomes at or below 80% of the federal poverty level.
How to apply
Phone enrollment is the best option to minimize the spread of COVID-19.
Enroll by telephone using one of the options below:
Public Health—Seattle & King County
Community Health Access Program


Phone:
(800) 756-5437

Hours:
Monday - Friday 8:00am – 5:00pm
(closed 1:00pm–2:00pm)

Department of Social and Health Services (DSHS)
Customer Service Center


Phone:
(877) 501-2233

Hours:
Monday - Friday 8:00am – 5:00pm

Catholic Community Services


Phone:
(206) 960-1582

Hours:
Monday - Friday 9:00am – 4:00pm
Enroll in person at one of the locations listed:
Hours and locations for in-person services are subject to change with COVID-19 conditions.
Tap your ORCA card to board
You are just a tap or scan away from your next ride. The process varies slightly depending on which transit system you are boarding.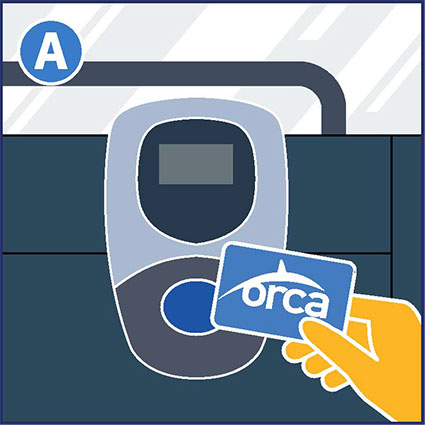 Tap your card as you are boarding
As you board the bus, tap your ORCA card on the card reader inside.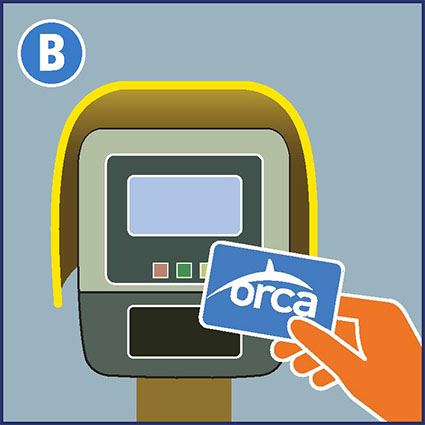 Tap your card before boarding
Before boarding Link light rail, RapidRide, the Sounder commuter train, and the Seattle Streetcar, tap your ORCA card on a yellow card reader outside/on the platform. When you exit Link and Sounder, re-tap your ORCA card to complete the trip.
Scan your card
When boarding the Water Taxi, Access, the Seattle Center Monorail, Via to Transit, and Trail head Direct, the loading agent or cashier will scan your card.
How do I ride on other transit systems?
Your subsidized annual pass will only cover your fare on certain transit systems. To ride on other systems you will need to pay your own fare. The easiest way to pay is with your ORCA card. Be sure to load your E-purse with money before your trip.
What is an E-purse?
An E-purse (electronic purse) stores money on your ORCA card to pay your transit fare later. E-purse funds don't expire. Load as little as $5 and as much as $300.
How do I add money to my E-purse?
Choose one of the 5 options below to add money to your E-purse.
Fare 100% paid by your subsidized annual pass on the following services. For other transit services, you can ride at a reduced fare using your E-purse.
Sound Transit express buses
Other reduced fare options
Customers who do not qualify for the subsidized annual pass may qualify for reduced fares via our ORCA LIFT program (income-based for people at or below 200% of federal poverty), through the Regional Reduced Fare Permit (for seniors and people with disabilities), or through an ORCA Youth Card, (for youth ages 6-18).
Frequently asked questions
Background
About the program
In response to a 2019-2020 budget request by King County Council, Metro worked to establish an income-based fare program for those who cannot afford the current reduced fare options. To create an equitable implementation plan, Metro collaborated with a stakeholder advisory group, prioritizing the mobility needs of priority populations, including people of color, low-income residents, limited or non-English speaking communities, and immigrants and refugees.
Resources
For potential customers and agency partners: Information about program eligibility and enrollment

For customers who are enrolled in the program: How to use your new pass

For stakeholders:
General program overview sheet
Which ORCA fare is right for you?: Find your best ORCA fare

Link/share this page: kingcounty.gov/subsidizedannualpass