Secure bike parking
Park your bike, then catch your bus
If you don't need to take your bike along, park it where you catch your bus or train. Metro and Sound Transit have racks, lockers or cages at most transit centers, park & rides and rail stations. Bike lockers are secure and weather-protected for your bike (or scooter) and related gear.
Find bike parking locations
Bike parking is provided for customers to leave their personal bikes or scooters when connecting to transit services. It is not for long-term storage or for non-related items and it is not a replacement for parking at home, work or school.
On-demand Lockers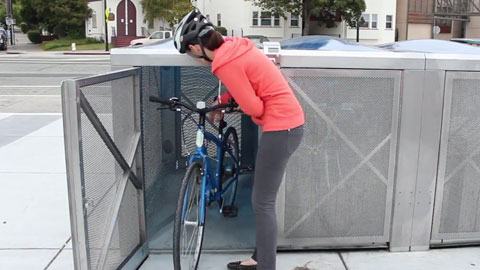 On-demand bike lockers (or eLockers) are available anytime with no long-term commitment. Just get a BikeLink card to pay as you go at only 5 cents per hour! The card gives you access (first-come, first-served) to any locker in the BikeLink system. They're available at a growing number of locations in King County and elsewhere.
How to use On-demand Lockers in 4 easy steps
Park your bike
Bike to a transit location with BikeLink lockers. Insert your card into a reader and follow the instructions on the screen to open an available locker and park your bike. Tip: Wheel your bike in backwards because the locker is wider at the front for your handlebars.
Pay automatically
Set the amount of parking time you need, plus a little extra. Five cents per hour will be deducted automatically from your BikeLink card only for the amount of time you actually use. If your bike stays longer than the time set, the fee will be 12 cents per hour for the excess time.
Hop on transit and go!
You can rent a BikeLink locker for up to 10 consecutive days at a time. If you leave your bike longer than 14 days, however, the bike is considered abandoned and will be removed. Add money to your BikeLink stored-value card through the BikeLink website.
Long-term leased lockers
Leased lockers are intended for people who park at least several days per week year-round at the same location. Reserve a safe, secure, and enclosed locker on an annual basis at many park & ride locations throughout the County. Arrange for a lease and key deposit or annual payment with Metro or Sound Transit depending on the location.
Find a location and agency
How to apply
For Metro Transit locations:
For Sound Transit locations:
Bike cages
Bike cages are enclosed bike parking facilities for pre-authorized users. Customers lock their bikes to racks using their own locks. Currently Sound Transit has bike cages at several rail stations. Customers can get access to the cages with a user agreement and rental fee.
How to apply
Follow the instructions for Sound Transit's bike parking.
Frequently asked questions
Looking for more biking tips or resources? We've got you covered.
¿Buscas más consejos o recursos sobre ciclismo? Te lo resolvemos.
正在寻找更多的骑自行车的提示或资源?我们可以帮助您。
Bicycling maps and resources
Mapas y recursos sobre ciclismo
Bicicletas en otros servicios de transporte