Bikes and transit
Use a bike to connect to your bus, train, streetcar or boat!
Bikes and transit together will give you more ways to get to the places you want to go, when you want to go there. Whether for work, school, errands or fun you can bring your bike on transit or park it at transit to get just about anywhere in King County and beyond.
Buses
King County Metro and Sound Transit buses carry three bikes on front racks. Load or unload your bike at any regular bus stop.
Other agencies in the region also carry 2 or 3 bikes per bus. Most e-bikes are too heavy for bus bike racks, while cargo bikes are too long. See our types of bikes for limits on size, weight, types of bikes and accessories.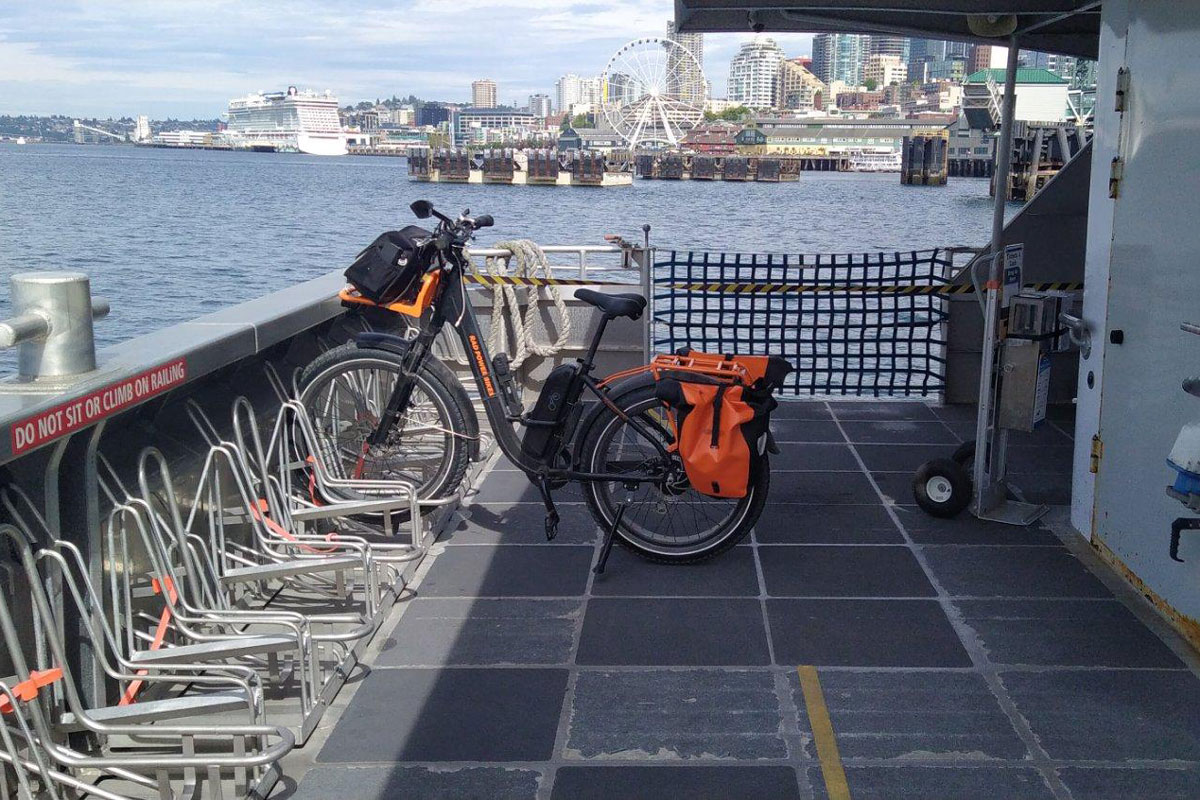 Vanpools
Racks can be installed at no charge on Metro vanpools upon request.
Metro Flex
Request one of our vehicles with a bike rack when booking your trip. Tap the + button after the 'Traveling alone?' prompt. Select 'Add a bike' from the list of options.
Other Metro services
Services that use small vehicles or vans carry 2 or 3 bikes. Metro's regular rack loading instructions and rules apply for size, weight, type of bike and accessories. Please contact the specialized services, including DART and Trailhead Direct for more details.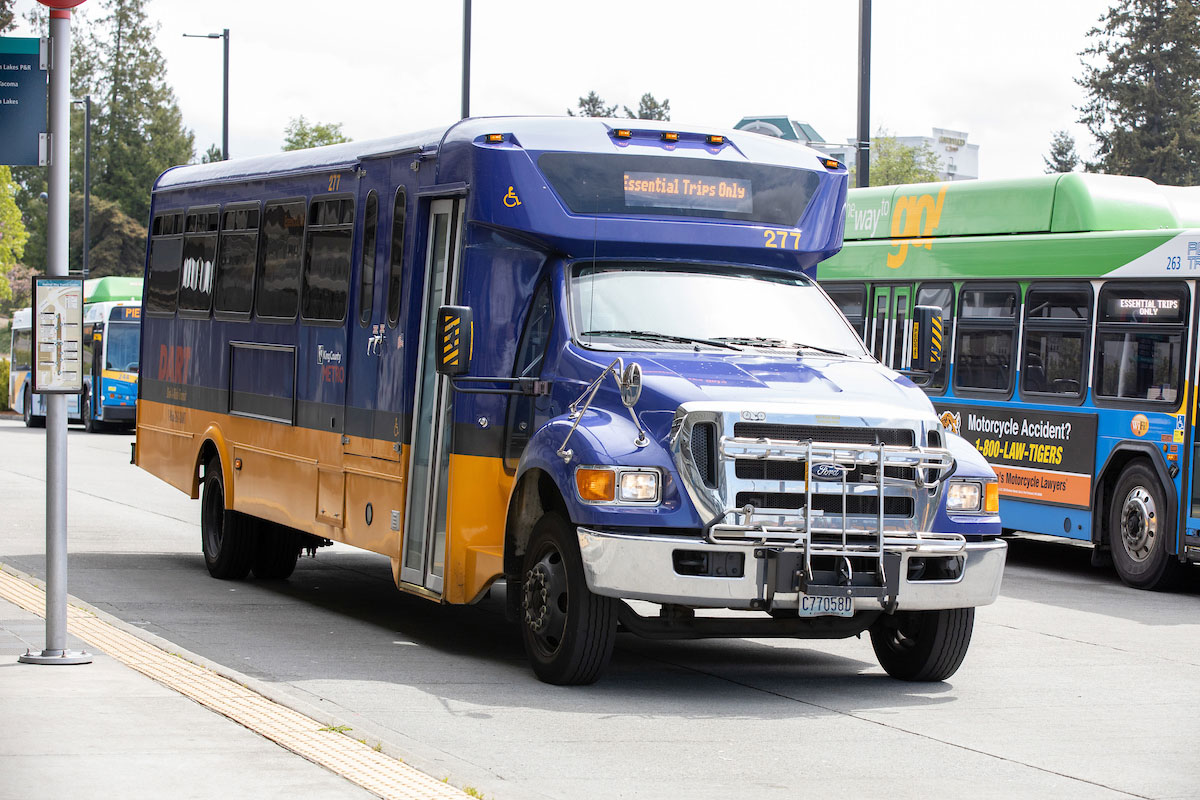 Bikes on other transit agencies
Secure bike parking
If you don't need to take your bike along, park it where you catch your bus or train.
Metro and Sound Transit have racks, lockers or cages at most transit centers, park & rides and rail stations. Bike lockers are secure and weather-protected for your bike (or scooter) and related gear.
How to park your bike securely
General FAQ
Many cities publish detailed bike maps of their bike routes, and there are regional and state maps as well. Various apps also can help you plan bike travel. You may want to use some time when traffic is light to try several different ways to bike to your usual destination. If you work for a large employer, you may have a commute program that includes bike resources and a buddy who'll ride with you.
Metro is actively planning improvements in how bikes and transit work together. Metro's long-range plan, METRO CONNECTS, envisions significant growth in biking and walking as ways that people will reach transit as described in the plan's Connecting to Transit section. Metro coordinates its bike and pedestrian planning with local cities and Sound Transit, and serves on the Puget Sound Regional Council's Bicycle and Pedestrian Advisory Committee.

Metro has been awarded grants to help several of King County's cities build safe bike and walk connections to transit, and in the coming years, Metro will add more bike parking at transit locations.
Follow the directions on our Lost and Found page. If the bike is found it will be tagged and you'll get a case number with instructions on where and how to pick it up. Bikes will be held for 10 days. Once you have a case number, you may authorize someone else to make the pickup for you. Remember that Metro is not responsible for your property.
First, contact our Lost and Found to see if it's been found.
Also, register your bike on BikeIndex.org, file a police report in the city where you think the theft occurred, check re-sale shops and sites like Goodwill, Craigslist or OfferUp, and post on Twitter, neighborhood blogs and other sites where neighbors and police may be able to keep an eye open for your bike. Remember that Metro is not responsible for your property.
The policy for scooters inside the bus is the same as the policy for bikes: only those that can be folded are permitted. Folding bicycles and folding scooters are allowed on the bus, provided they can be safely stowed out of the aisle. The customer must ensure that wheels and other frame extrusions such as pedals are stored in one compact form and do not pose a danger to customers.

In any case, the bus driver's judgment prevails if the bus is crowded or if the item is causing an issue of safety or discomfort to passengers.
As of June 22, 2019, the service to carry extra bikes on SR 520 out-of-service buses had to end because the Montlake freeway stops on SR 520 (eastbound and westbound) closed permanently for long-term WSDOT construction.

When construction finishes in several years, new transit stops will be located on a future Montlake lid over the freeway. If you travel SR 520 on Metro or Sound Transit buses—with or without a bike—please check Trip Planner in this area.

Learn more about SR 520 Montlake construction