2016 Annual Report
Small Habitat Restoration Program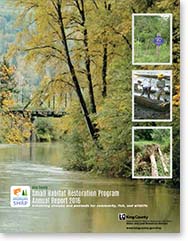 In 2016 the Small Habitat Restoration Program (SHRP) constructed and maintained 49 habitat projects to enhance and restore streams, wetlands, and riparian buffers throughout King County. SHRP staff worked with 41 private property owners to enhance fish and wildlife habitat on their property.

20 new construction or planting projects;
29 projects maintained and monitored;
13,782 native trees and shrubs planted;
7,125 lineal feet of riparian buffer enhanced or restored;
11.4 acres of riparian buffer enhanced or restored;
0.5 acre of floodplain restored via reconnection;
4.25 acres of wetland habitat restored or enhanced;
1,052 linear feet of nearshore or marine shoreline restored; and
31 pieces of large woody debris installed.
In 2016, grant funding for SHRP totaled over $76,000. Forging new partnerships and strengthening relationships with grant agencies and private landowners maximizes public funding to improve water quality and enhance habitat for fish, wildlife and future generations..
The Small Habitat Restoration Program 2016 Report is available in Adobe Acrobat format.
Download here: