Harbor Island Dock Demolition
King County Green Bonds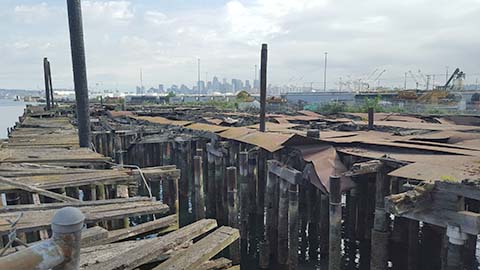 The King County Solid Waste Division (KCSWD) is proposing to demolish a derelict, creosote-treated timber dock located along the western shoreline of Harbor Island, at the mouth of the Duwamish River. The dock experienced a continuous state of decline while under the previous ownership of Fisher Mills and Pendleton Flour Mills during the 1990s and early 2000s. In 2003, the KCSWD purchased the upland mill site, which included the derelict dock structure; the conveyance of property deeds to the KCSWD included the assignment of DNR aquatic lease No. 22-002757, originally issued to Fisher Mills in 1992. The re assignment of the DNR aquatic lease transferred the terms, conditions, and obligations of the original lease to the KCSWD. It is the KCSWD's intent to maintain and renew this lease, which is set to expire on August 31, 2022.
The proposed project consists of the removal of an approximately 72,700-square-foot creosote-treated derelict timber dock structure, including its ancillary components, and shoreline stabilization work to stabilize the site once the derelict dock and associated components have been removed. This work will result in the restoration of fish passage and removal of creosote and other non-native materials from the West Waterway of the Duwamish River.
Environmental conservatism will guide our decision making as:
Use of treated wood for over- and in-water structures can result in the release of wood preservatives into aquatic habitats;
There is potential for these chemical contaminants to have adverse impact to salmon listed under the Endangered Species Act, as well as other aquatic resources;
PAH when metabolized forms toxins resulting in: reduced vigor, slight narcosis and reduced growth in species that consume them;
Cumulative effect of PAH exposure can result in increasingly complex impacts;
Quantifying impacts of increasing complexity is difficult and carries a high degree of uncertainty.
Project info
Green Bonds: 2017-Series A
40% complete 6/2020
$1.3m Green Bond Proceeds spent
Related information
Related agencies