The Salmon Watcher Program was a multi-jurisdictional effort focused at protecting a Pacific Northwest treasure and educating the community in the process. The 20-year-old program involved volunteers watching streams for spawning salmon in King and Snohomish Counties. This effort mainly focused on waters within the Lake Washington Watershed. After 20 incredible years of volunteer service and fish data collection, the program ended after the 2015 spawning season. Some of the program's long-time partners, such as the Bellevue Stream Team, will continue to hold Salmon Watcher trainings and collect data each fall. This website will continue to provide information for how you can help salmon as well as how you can get involved in on-going volunteer efforts in the region.
Other local programs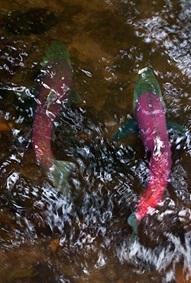 Where to see fish...
If it is salmon spawning season (September through December) and you'd like to get out and see fish, here are some ideas and opportunities:
Want to help salmon?
Want to learn more?
Learn more about salmon and other animals in the water
Related information
Related agencies