Lake Sammamish kokanee
King County, Washington
Emergency action to prevent the possible extinction of native kokanee salmon
In 2020, a partnership formed to implement emergency actions due to a severe decline of kokanee salmon in Lake Sammamish. The Snoqualmie Tribe, King County and the Cities of Bellevue, Issaquah, Redmond and Sammamish signed the Kokanee Recovery Interlocal Agreement to fund important technical studies and kokanee supplementation necessary to recover kokanee salmon in Lake Sammamish. This funding was critical to the implementation of the emergency actions described in the video above.
Kokanee salmon are native to the Lake Sammamish and Lake Washington watershed but now spawn in only a few streams that feed into Lake Sammamish. Unlike their larger relative the sockeye salmon, kokanee do not go out to the ocean but spend their entire lifecycle in fresh water. They migrate from streams as inch-long fry and spend three to four years in Lake Sammamish before returning to spawn in the late fall and early winter in their natal streams.
This kokanee population's habitat once encompassed the lower Cedar River, smaller tributaries to Lake Washington and the Sammamish River, and the Lake Sammamish watershed, but today its range is only Lake Sammamish and primarily three of its tributary streams used for spawning.. This population once numbered in the tens of thousands of fish. Since 2007-2008 the number of returning spawners has dipped below 150 spawners four times. Causes of this decline are currently understood to include altered stormwater flows, past hatchery practices, predation, fishing, passage barriers, and lake temperature and dissolved oxygen levels.
The Lake Sammamish Kokanee Work Group (KWG) is driving the collaborative effort to recover these little red fish. Watershed residents, local jurisdictions, agencies, and NGOs formed the KWG in 2007 to identify the causes of kokanee decline and then develop and implement actions to address them.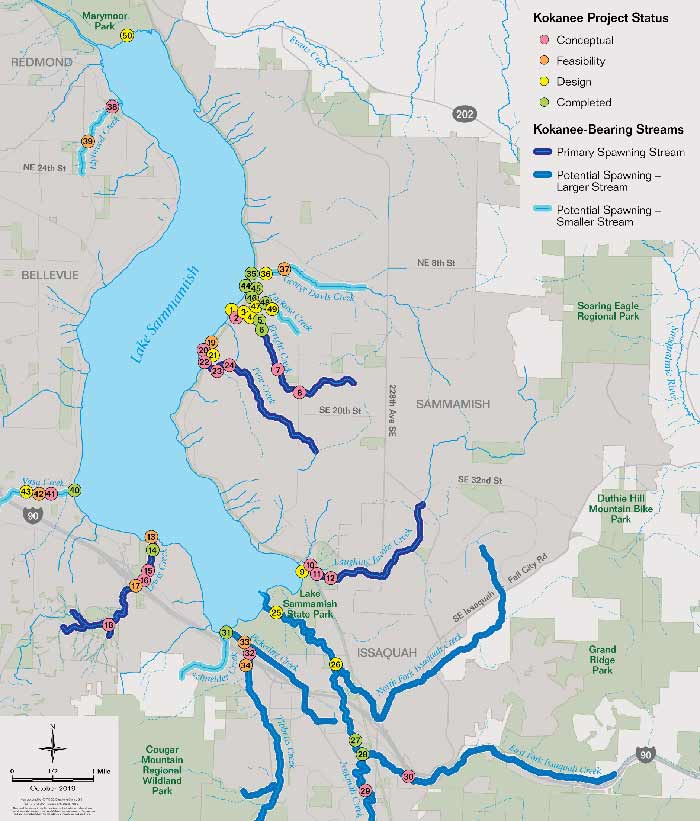 Lake Sammamish Kokanee Recovery Strategic Timeline (361 KB Acrobat pdf)
Lake Sammamish Kokanee Workgroup products
Lake Sammamish Urban Wildlife Refuge Partnership
Extensive effort to support conservation of fish and wildlife in the Sammamish Basin, and contribute to the quality of life for current residents and future generations.
Kokanee pictures
Photos of kokanee in tributary creeks of Lake Sammamish in King County, Washington. For detailed description, see the kokanee identification page.

Kokanee videos
Watch videos of spawning, rearing and reintroduction of kokanee in Lake Sammamish tributaries since 2007.
Kokanee Cam
Underwater video of kokanee returning to a stream in the Sammamish Watershed.

Kokanee studies, reports and documents
Kokanee conservation presentations
Briefing materials presented to regional partners interesting in Lake Sammamish kokanee science, status and conservation efforts.
For questions about Lake Sammamish kokanee, please contact Alison Agness.
Related information
Related agencies
News and announcements
Oct. 13, 2022
Amid promising signs of health for native kokanee salmon, recovery partners release young fish into Lake Sammamish that were flown in from an Orcas Island hatchery
Jun. 2, 2022
Biologists see promising signs of health for native kokanee salmon four years after Executive Constantine announced actions to help ensure their survival
May 10, 2022
External report, KUOW
Seattle fish research could shake up global tire industry
Mar. 2, 2022
Executive Constantine welcomes small airplane carrying the last offspring of native kokanee salmon after successful spawning at Orcas Island hatchery
Mar. 2, 2022
External report, FOX 13
Last offspring of Kokanee salmon return from Orcas Island
Jan. 22, 2022
External report, KING5 News
King County, Snoqualmie Tribe, partners continue efforts to restore Kokanee population
Jun. 17, 2021
External article, Bellevue Reporter
Researchers track 'mysterious' kokanee salmon in region
Sep. 1, 2020
Glenwood Springs Kokanee Transfer
Uniquely Issaquah - Saving the Lake Sammamish Kokanee
Jan. 14, 2020
External article, Bothell-Kenmore Reporter
Spawning Grounds: Lake Sammamish kokanee documentary premieres Jan. 18
Jan. 13, 2020
External article, Seattle Weekly
Spawning Grounds: Lake Sammamish kokanee documentary premieres Jan. 18
King County 30 Year Forest Plan
Please answer a brief survey to help prioritize actions over the coming decades.
Oct. 18, 2019
Small planes fly kokanee salmon to Orcas Island hatchery, the latest emergency action by King County and partners to ensure the native species' survival
Oct. 18, 2019
External article, KOMO News
Genetically rare salmon fly to Orcas Island to preserve species
Oct. 10, 2019
Increasing kokanee's chances of survival: Young salmon released after extended stay in a safe environment as lake conditions improved
Oct. 9, 2019
External article, KING5
Kokanee salmon released in Lake Sammamish for the first time in 2 years
Jul. 31, 2019
External report, KOMO News
State investing $25 million to remove culverts for salmon migration
Jun. 27, 2019
External article, Issaquah Reporter
Issaquah and Sammamish partner for watershed analysis
Spawning Grounds trailer
Documentary about restoring kokanee populations in Lake Sammamish and its tributary streams, by restoring habitat.
Jan. 31, 2019
External article, Bellevue Reporter
Local salmon face dire future amid effects of climate change
Dec. 18, 2018
Emergency and long-range actions to ensure the survival of native kokanee salmon
May 8, 2018
Taking emergency action to prevent the possible extinction of native kokanee salmon
The "little red fish" with a big tale to tell
A partnership to save Lake Sammamish kokanee salmon
Celebrating 10 years of kokanee recovery actions
2017 gathering at Confluence Park in Issaquah
Mar. 10, 2017
External article, Issaquah Reporter
Planned kokanee documentary to tell the story of the little red fish in Lake Sammamish