King County-Cities Climate Collaboration
King County and seventeen partners — Bellevue, Burien, Issaquah, Kenmore, Kent, Kirkland, Lake Forest Park, Mercer Island, Normandy Park, Port of Seattle, Redmond, Renton, Sammamish, Seattle, Shoreline, Snoqualmie, and Tukwila — are collaborating through the King County-Cities Climate Collaboration (K4C) to coordinate and enhance the effectiveness of local government climate and sustainability action.
Through the King County-Cities Climate Collaboration (K4C), county and city staff are partnering on:
Outreach – to develop, refine, and utilize messaging and tools for climate change outreach to engage decision makers, other cities, and the general public
Coordination – to adopt consistent standards, benchmarks, strategies, and overall goals related to responding to climate change
Solutions – to share local success stories, challenges, data and products that support and enhance climate mitigation efforts by all partners
Funding and resources – to secure grant funding and other shared resource opportunities to support climate related projects and programs
All King County cities are encouraged to join into this effort, which is supporting and enhancing projects and programs in focus areas such as green building, using and producing renewable energy, sustainability outreach and education, and alternative transportation.


Photo of Elected Officials at the June 10th, 2019 King County-Cities Climate Collaboration (K4C) Elected Official Work Session
K4C Focus for 2019
K4C has developed a Letter of Commitment, Principles for Collaboration, and Joint County-City Climate Commitments (258 KB PDF) — that will help get the region on track towards shared and ambitious climate targets adopted through the Growth Management Planning Council. Cities are now following through on these commitments.
K4C – Map of Current Partners (as of April 2019)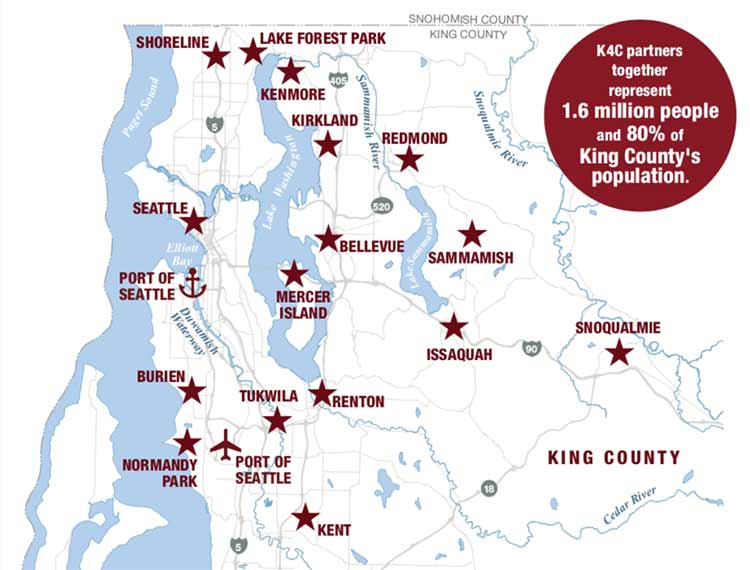 Download the Full Resolution Map (2 MB PDF)
K4C Co-Chairs/Contacts and How to Stay Connected
Matt Kuharic, Senior Climate Change Specialist
King County Department of Natural Resources and Parks Director's Office
206-477-4554 (office)
Nicole Sanders , Climate & Long Range Senior Planner
City of Snoqualmie Planning Department
425-888-5337 ext.1143
For more information about the K4C:
The K4C maintains an email listserve through which periodic updates of K4C related work are provided to interested partners. To sign up to be included on this list, please email Matt Kuharic
Special thanks to former Antioch University Graduate Student Linda Lyshall. Her research helped lead to the formation of the King County-Cities Climate Collaboration.
See also: Lyshall, Linda (2011). Collaboration and Climate Action at the Local Scale. Doctoral Dissertation, Antioch University, Yellow Springs, OH. Retrieved from OhioLink Electronic Thesis and Dissertation Center.