King County Rural Forest Commission
King County, Washington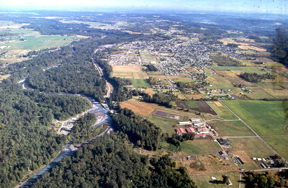 The King County Rural Forest Commission is an advisory group of 13 volunteer members who represent a variety of rural forest interests. They advise the County on policies and programs affecting rural forests.
Recognizing that conserving healthy forests is essential to protecting and restoring water and air quality, providing recreational opportunities and maintaining a viable forestry industry in King County, the Commission issued its recommendations for conserving rural forests. Read the Commission's report here: Actions Required for King County to Conserve Rural Forests, May 2009 (PDF)
The King County Rural Forest Commission – a 13-member, volunteer advisory group appointed by the King County Executive – is actively recruiting three new members to guide policy and programs in the coming years. Applicants must be residents of King County who have a working knowledge of King County forestry and a strong commitment to conserving forestland in the county.
The Commission advises King County on long-term conservation of forest land and economic development considerations in rural forestry. The Commission represents an array of rural forest interests and we seek diverse applicants who may reflect and represent the spectrum of rural forestry stakeholders.
Specifically we are seeking applicants who represent the following interests:
rural cities in King County (Black Diamond, Carnation, Duvall, Enumclaw, North Bend, Skykomish, Snoqualmie);
residential forest landowners with greater than twenty acres of rural forest land enrolled in the Forest Land Designation program; and
professional or academic foresters or forestry associations
We also welcome applications from:
residential forest landowners with less than twenty acres of forest land;
forest landowners with greater than 40 acres of rural forest land in King County; and
affected Tribes
Commission members are asked to volunteer for a minimum term of three years. Duties include attending bi-monthly meetings from 8:30 to 11:30 a.m. on the third Thursday of the month at the Preston Community Center (unless otherwise noted) and occasional subcommittee meetings.
For more information, please contact Kathleen Farley Wolf at kfarleywolf@kingcounty.gov or 206-477-4363.
Applications are due by July 15, 2018.
Meetings:
The Commission meets six times a year. Meetings in 2018 will be held from 8:30 to 11:30 a.m. at the Preston Community Center (unless otherwise noted), 8625 310th Ave SE, Preston, WA. The public is welcome to attend. Upcoming meeting dates are as follows:
September 20, 2018 (Thursday)*
*This meeting will be held at the Lake Wilderness Lodge, 22500 SE 248th Street, Maple Valley
November 15, 2018 (Thursday)
Agenda
From time to time the Commission meets via conference call. Members of the public may listen to the discussion at a central location.
For agendas or to be added to the mailing list, please contact Andrea Plischke.
Past meeting minutes (Adobe Acrobat PDF format):
2018
January 18, 2018
March 15, 2018
May 17, 2018
July 19, 2018
2017
January 19, 2017
March 16, 2017
May 18, 2017
July 20, 2017
September 21, 2017
November 16, 2017
2016
January 21, 2016
March 10, 2016
May 12, 2016
July 14, 2016
September 8, 2016
November 10, 2016
2015
January 15, 2015
March 12, 2015
May 14, 2015
July 9, 2015
September 10, 2015
November 12, 2015
2014
January 16, 2014
March 13, 2014
May 8, 2014
July 10, 2014
September 11, 2014
November 13, 2014
2013
November 14, 2013
September 12, 3013
July 11, 2013
May 9, 2013
March 14, 2013
January 10, 2013


For questions about forestry services in King County, Washington, please contact Kathleen Farley Wolf, Project/Program Manager, King County Forestry Program.
Related information
Sign up for announcements about the Rural Forest Commission

Commission members
Nate Veranth (Chair)
Forest landowner
Rex Thompson (Vice-Chair)
Cascadia Pacific Group
Amy LaBarge
Forest ecologist
Andy Chittick
Forester/Sawmill operator
Bernie McKinney
Green River Coalition
Daryl Harper
Forest landowner
Dick Ryon
North Bend resident

Grady Steere
Campbell Global
Laurie Benson
Washington State Department of Natural Resources
Li Hsi
Forest landowner
Monica Paulsen Priebe
Green River College
Steven Mullen-Moses
Snoqualmie Tribe
Wendy Davis
Forest landowner
Brandy Reed (ex officio)
King Conservation District
Kelly Ketcheson (ex officio)
Washington State University Extension
Martie Schramm (ex officio)
USDA Forest Service
Mt. Baker-Snoqualmie National Forest
Commissioner list (PDF)
Commission Staff