King County supports a Duwamish River cleanup that will protect people's health, safeguard 100,000 family-wage industrial jobs and ensure environmental justice for those who live and work nearby. And we're already taking action.
News and updates
Learn More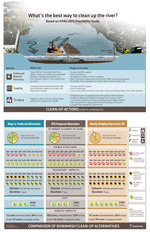 What's the best way to clean up the river?
For more information about the Duwamish environmental cleanup process, please contact Caryn Sengupta.