King County Councilmember Reagan Dunn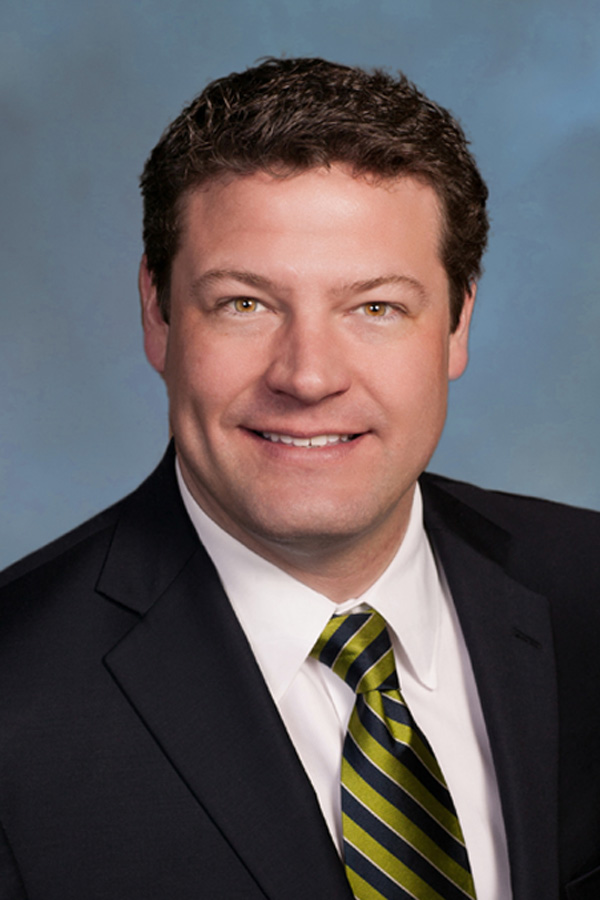 Dunn Co-Hosts Unincorporated Town Halls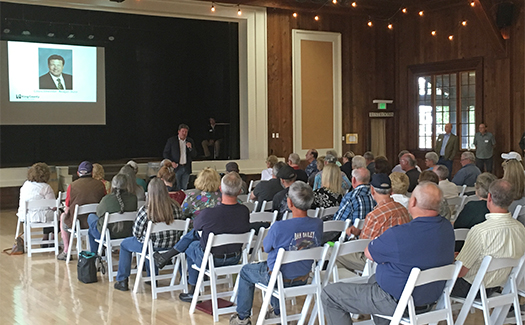 I recently finished my annual round of community town hall meetings, which I co-host with the King County Department of Local Services. We held meetings in Fairwood, the Enumclaw Plateau, East Renton Highlands, and the Greater Maple Valley area. These town halls are crucial to help residents access services and speak directly to county staff and elected officials. Thank you to the many people who came to make their voices heard!
If you have questions or concerns I encourage you to reach out to my office, regardless of whether you were able to make it to the town hall. My office can be reached at 206-477-1009 or at
Reagan.Dunn@kingcounty.gov
.
Join Councilmember Reagan Dunn and King County Parks for their 2019 Big Backyard Movie nights!

Our two movie nights at Ravensdale Park and Coalfield Park were great successes! We screened Shrek and Up and had great nights of family-friendly fun! We hope you can join us for the final movie night of the summer on Saturday, August 24 at Petrovitsky Park. We're showing Night at the Museum! Seating opens at 6:30pm and the movie starts at dusk (around 8:15pm). The address for Petrovitsky Park is 16400 SE Petrovitsky Rd, Renton, WA 980588. Please RSVP at this link.
Dunn Honors Fallen Law Enforcement Officers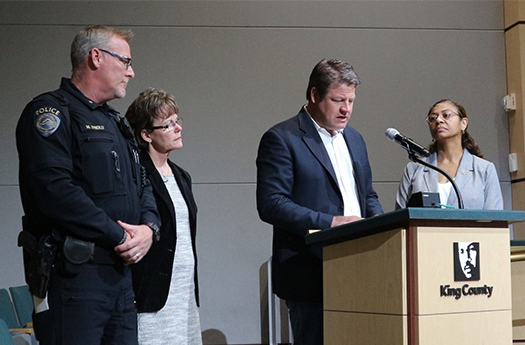 May 15th is National Peace Officers' Memorial Day, and is a time for us all to reflect on the law enforcement officers who sacrificed their lives in the line of duty. We gratefully thank the officers who continue to put their lives on the line every day.
I joined my colleague Kathy Lambert, Kent Police Department Commander Mike O'Reilly and King County Sheriff's Office Chief Patti Cole-Tindall to proclaim May 12-18 as Police Week in King County. We memorialized the two officers recently lost in Kent: Detective Derrick Focht who we lost to a heart attack in 2017, and Officer Diego Moreno, who was tragically struck and killed by a car during a vehicle pursuit of an armed suspect following a shooting in Kent last year.
With many more men and women continue to risk their lives on our behalf every day, may we remember our fallen officers for their lives of service for the good of others.
Unified Campaign to Combat Human Trafficking Launched in King County

From the left: Assistant Chief Steve Hirjak, Seattle PD; Shelly Parker, Alaska Airlines; Councilmember Reagan Dunn, King County; Sheriff Mitzi Johanknecht, King County; Tony Gonchar; Delta Airlines; Commissioner Courtney Gregoire, Port of Seattle
Recently, I joined with leaders from the Puget Sound region to announce our joint regional campaign to promote awareness of the tragic issue of human trafficking. Though it is a crime that often goes unseen, human trafficking for labor or sex is a horrifying assault on human dignity and liberty—and sadly, it happens here at home in King County.
As a former federal prosecutor, I've seen firsthand the devastation that sex crimes wreak on the lives around us. That's why I've made it a priority to educate the public about they can do to help, and to encourage victims to find the help they need. In 2013, I sponsored one of the first local campaigns to raise awareness of this issue, and we successfully increased calls to the National Human Trafficking Hotline by 63%. Today's announcement continues our progress.
This new campaign is a partnership between King County, the Port of Seattle, the City of Seattle, Sound Transit, and private sector partners including Alaska Airlines and Delta Airlines. Other participating partners include King County cities, Expedia, Uber, and the Snohomish County Lodging Association.
Keep an eye out for these informational signs, which we are placing in highly visible places throughout the region: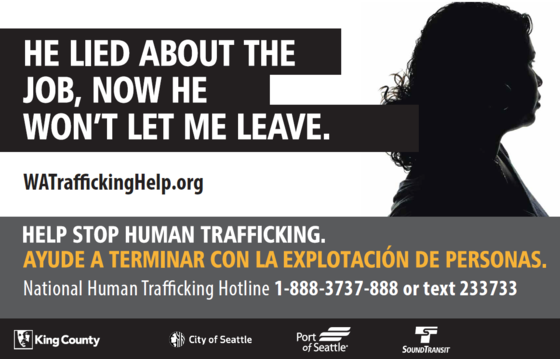 Remember—if you see something that doesn't look right, it only takes a simple phone call to the National Human Trafficking Hotline report it. The number is 1-888-373-7888, or text HELP or INFO to 233733.
Honoring the life and service of First Lieutenant Michael Adams
This Veterans Day, I was honored to organize a special ceremony in the community of Fairwood. We commemorated the life of fallen Iraq War hero First Lieutenant Michael Adams by renaming the road he grew up on as "1LT Michael Adams Place." First Lieutenant Michael Adams was an American hero who was loved by his family and friends, and I am grateful to have joined his parents and community in honoring his life and sacrifice. We should always remember that the freedoms we enjoy are protected by men and women like First Lieutenant Adams, and honor their dedication and sacrifice.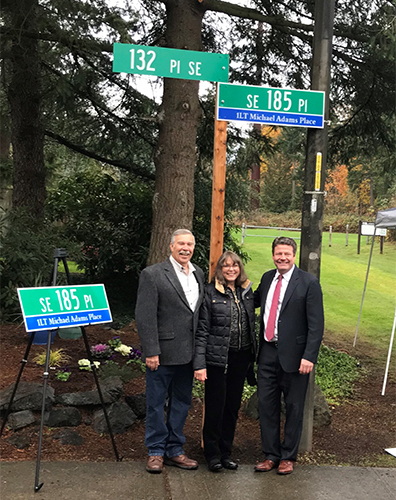 Join Councilmember Dunn for a Town Hall Meeting on Oct 10
As you may know, King County is considering a draft Solid Waste Comprehensive Plan which provides direction on how garbage and recycling will be managed in King County for the next six to 20 years. I invite you to join me for a town hall meeting to discuss the draft comprehensive plan and the future of the Cedar Hills Regional Landfill. I would like to hear what you think about the proposal and any questions or concerns you may have. If you would like to read more about the draft plan in advance of the meeting, you may do so at kingcounty.gov/solid-waste-comp-plan.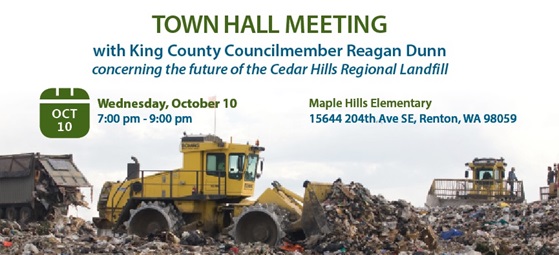 Building for Culture supports KidsQuest Children's Museum
Councilmembers Reagan Dunn and Claudia Balducci with KidsQuest Executive Director Putter Bert. The councilmembers presented KidsQuest $733,000 in funds from the Building for Culture program.
Trail from Renton to Bellevue Now Open for Business!
(Pictured from left to right) Renton City Councilmember Ryan McIrvin, Rocale Timmons of SECO Development, Bellevue City Councilmember Lynne Robinson, Renton Mayor Denis Law, County Executive Dow Constantine, Councilmember Reagan Dunn, Renton City Councilmember Ruth Perez, and King County Parks Staff join for a picture at the opening of the Renton to Bellevue Eastside Rail Corridor interim trail.
Join me at one of the upcoming District 9 Town Hall meetings!
SE King County
Tuesday, May 8, 7 – 9 p.m.
Enumclaw Expo Center Field House
1456 Roosevelt Avenue East
Enumclaw, WA

Greater Maple Valley/Cedar River
Tuesday, May 15, 7 – 9 p.m.
Hobart Church
27524 SE 200th Street
Maple Valley, WA

Fairwood
Wednesday, May 16, 7 – 9 p.m.
Northwood Middle School
17007 SE 184th Street
Renton, WA

Four Creeks/Tiger Mountain
Monday, May 21, 7 – 9 p.m.
Maywood Middle School
14490 168th Ave. SE
Renton, WA
National Library Week - Go Visit Your Local Library!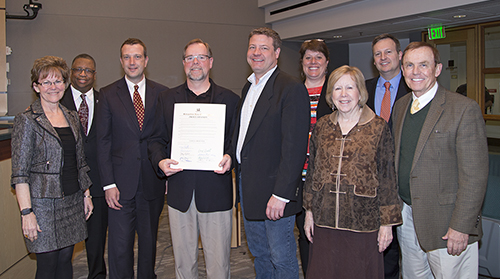 Councilmember Dunn (center) is joined by his colleagues and by John Sheller, the Government Relations Manager for the King County Library System, after the Council declared April 8-14 as "National Library Week" in King County.

Upgrades for Unincorporated Area Parks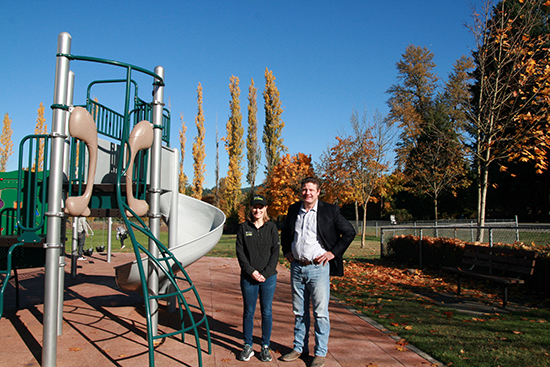 Dunn tours the improvements to Coalfield Park with King County Parks staff. This year, Dunn secured $140,000 in the King County Budget for improvements to unincorporated parks like Coalfield.
Renton-Bellevue Eastside Rail Corridor Connection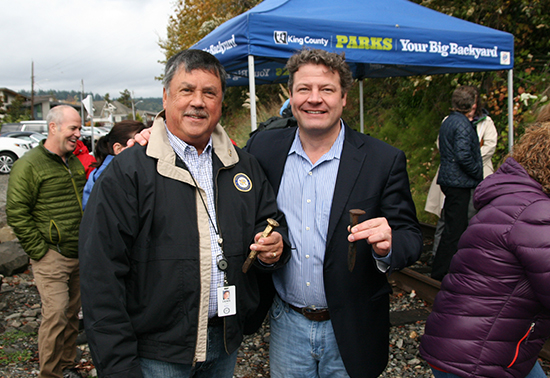 Dunn stands with Renton Mayor Denis Law, both hold rail spikes pulled from the future Renton-Bellevue Eastside Rail Corridor Connection. The new trail will open up transportation and recreational opportunities for residents living in communities in Renton, Newcastle, and Bellevue.
"Get Active, Stay Active" Grant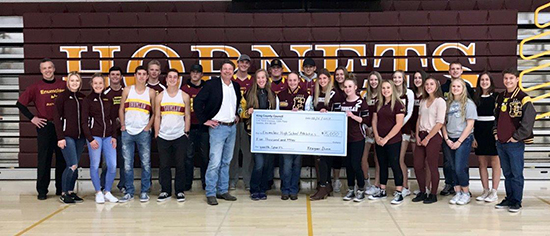 Dunn visited Enumclaw High School and had the chance to meet athletes who will benefit from a $5,000 "Get Active, Stay Active" Grant he helped secure. Go Hornets!
Marking the Completion of the Lower White River Countyline Levee Setback

Joined by Pacific Mayor Leanne Guier and NOAA Habitat Specialist Jason Lehto, Dunn speaks to the completion of the Countyline Levee Setback Project along the Lower White River as Chair of the King County Flood Control District.
Retired King County Metro Vans Find New Missions

Surrounded by clients and staff of the Enumclaw Senior Center, Councilmember Dunn, joined by Washington State Representative Morgan Irwin (4th from the left), hands the keys to a surplus Metro Transit Vanpool van to Senior Center Manager Jobyna Nickum.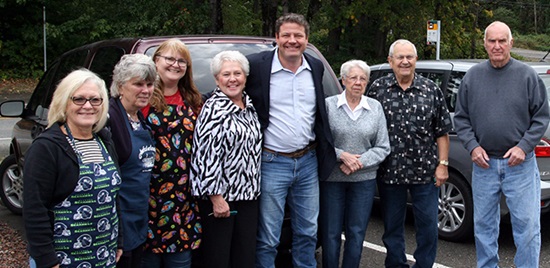 After securing a van for the Black Diamond Community Center, Dunn joins Executive Director Cheryl Hanson, Community Center staff, and area residents in a photo. The van will help transport seniors, kids grades K-5, and those in need of emergency services.
Partnering with Doug Baldwin, Renton to support the Family First Community Center

Pictured: Councilmember Dunn, Mayor Law, Doug Baldwin, Renton School District Superintendent Dr. Damien Pattenaude and Councilmember Upthegrove.
Metropolitan King County Councilmembers Reagan Dunn and Dave Upthegrove met with Seattle Seahawks wide receiver Doug Baldwin and Renton Mayor Denis Law to present $75,000 to the Family First Community Center, a recreational facility that will support education, fitness, and overall health for families and youth in the community.
Community centers like the Family First Community Center provide valuable programs and services to families. This center will provide a variety of programs including youth sports, art and music classes, group exercise, English as a second language classes, and much more. Healthpoint, a non-profit health center, will also provide services in the facility.
Improving Stormwater Drainage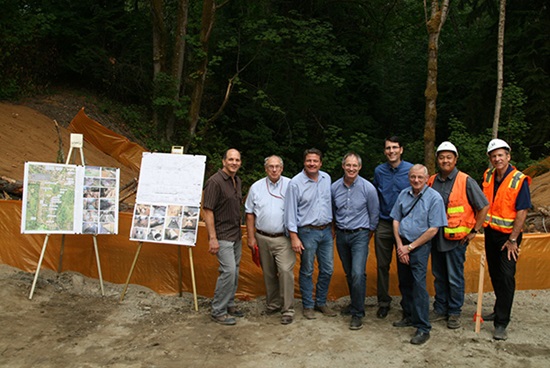 Councilmember Dunn tours the construction site of the Fairwood West/Molasses Creek stormwater replacement pipe project. Dunn has advocated for the project for a number of years including securing three King County Flood Control District Grants and a King County Water Works Grant totaling over $845,000. Pictured: Fairwood West HOA President Chris Hurless, Treasurer Raymond Byrd, Dunn, Josh Baldi, Director of King County Water and Land Resources Division (WLRD), Washington State Representative Steve Bergquist, Adrian Ryneveld, and King County Staff.
Maple Valley turns 20

Councilmember Dunn presents a King County proclamation to the Maple Valley City Council in honor of the City's 20th Anniversary.
Park Improvements and the 2017 King County Fair

Councilmember Dunn presents a check for $5,000 for the Cascade Soccer Club which he was able to secure through a King County Get Active Stay Active Grant. The check presentation took place at Coalfield Park, before an Outdoor Movie Night in District 9. This past year Dunn worked with King County Parks to fund and host these opportunities for family fun. For more information about the final Outdoor Movie Night of the summer check out this page.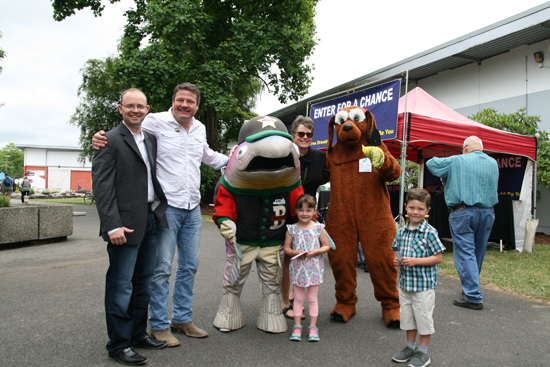 Councilmember Dunn is joined by twins Cooper and Quinn Mansanarez, the first two people to enter the 2017 King County Fair!
(L-R) Washington State Representative Morgan Irwin, Councilmember Dunn, Bert the Salmon, Enumclaw Mayor Liz Reynolds, Scoop the Dog, and twins Quinn and Cooper Mansanarez holding their fair tickets.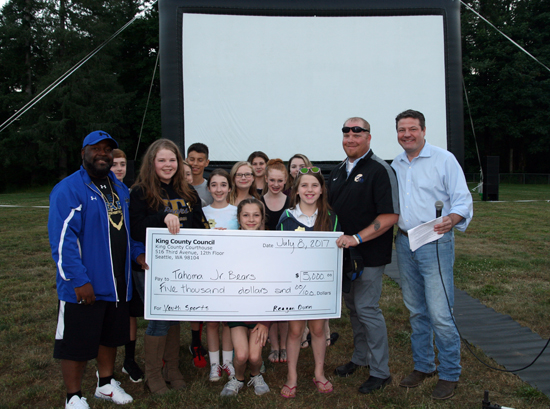 Councilmember Dunn presents a check for $5,000 to the Tahoma Jr. Bears at a King County Parks sponsored Outdoor Movie Night at Ravensdale Park. The funds come from King County's Get Active, Stay Active Grant Program. For more photos check out my Facebook page.
Southeast King County Townhall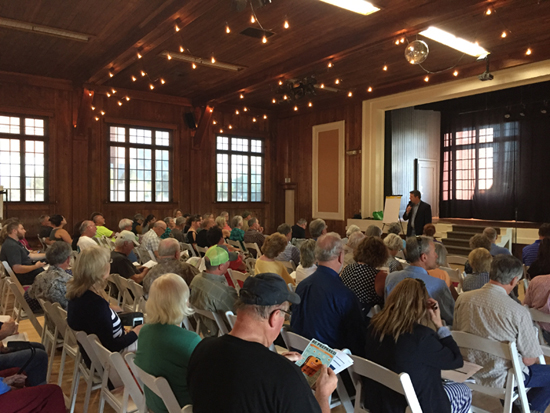 Councilmember Dunn speaking to unincorporated residents at this year's Southeast King County Townhall. King County acts as the local government for those living outside of cities. Annual town hall meetings are an opportunity for residents to speak to their county elected officials
King County Fallen Deputy Memorial
On December 2nd, the 10th Anniversary of Steve Cox's death, King County Sheriff John Urquhart and I unveiled the first King County Fallen Deputy Memorial. We were joined by family members of the 16 fallen officers who have lost their lives in the line of duty. It was an honor to partner with the Sheriff's Office on reminder of sacrifice that is now permanently established in the King County Courthouse.
Thank you to those who participated in the 2016 District 9 Survey.
To see the full results, click below.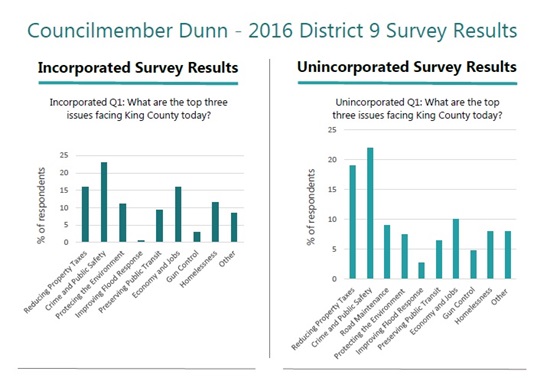 King County Indigent Individuals Memorial
Providing for those without loved ones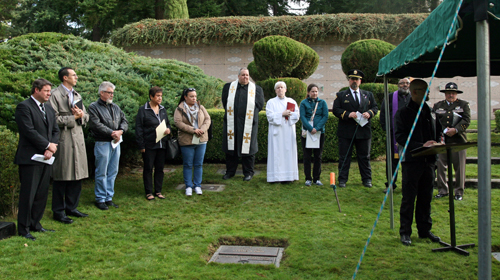 Councilmember Dunn joins leaders from faith organizations in recognizing the lives of the 278 indigent individuals who died in King County without family to properly provide for them. The ceremony was hosted by the King County Indigent Remains Program at Mt. Olivet Cemetery in Renton. For more information about the program click here.
Historic Barn Receives Funds for Update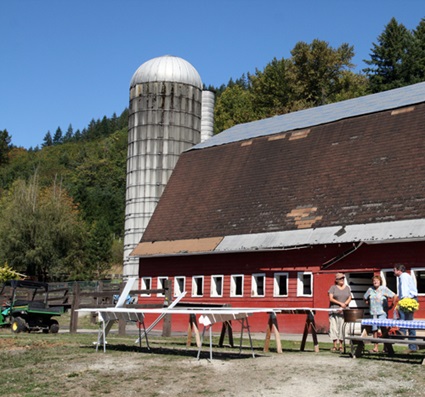 Councilmember Dunn visits the historic 1949 Colasurdo Barn in May Valley which was awarded $41,439 to repair the roof and gutters through the 2016 King County Heritage Barn Grant Program.
Join us for the Fairwood 50th on August 27th!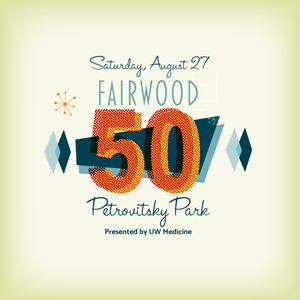 Happy Birthday Fairwood!
Councilmember Dunn is partnering with the King County Parks Department to host a day-long festival celebrating the community of Fairwood's 50th Anniversary on August 27th at Petrovitsky Park.
Beginning with the 5K Fun Run in the morning to the Movie Night at the Park, this exciting day has something for everyone.
For a full schedule of events, a list of sponsors, and a link to vote for the movie you'd like to watch in the park, check our event website at: https://kingcountyparks.org/fairwood-50/.
Flood Prevention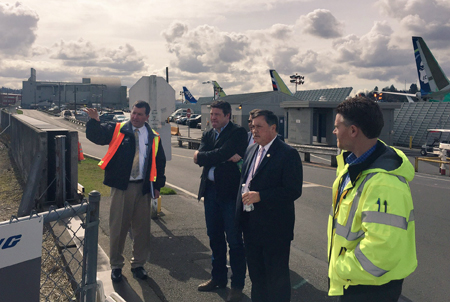 Councilmember Dunn joins Renton Mayor Denis Law on a tour of Boeing's Renton facilities. The King County Flood Control District is providing funding to protect the City of Renton's Airport and Boeing's facilities against future flooding.


Town hall meeting for unincorporated residents
Over 500 people have attended the four Town Hall meetings Councilmember Dunn has hosted for unincorporated residents in District 9. The last meeting will be held Tuesday, June 7th at Maple Hills Elementary, to address issues in the Four Creeks/Tiger Mountain areas. The meeting will run from 7-9 pm and is open to the public.
New Bridge Over Jenkins Creek
Councilmember Dunn attended the City of Covington's opening of a brand new bridge over Jenkins Creek connecting the current trail system to Jenkins Creek Elementary. A $418,000 King County Grant helped to fund the construction of this project.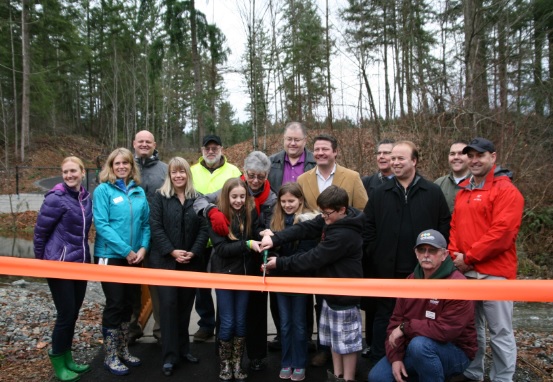 Anniversary of the Ravensdale Mining Disaster
One hundred years ago on November 16th, the town of Ravensdale experienced a mining explosion that claimed 31 lives. To memorialize the miners that died, Councilmember Dunn partnered with the local community to open a series of interpretive signs called the Ravensdale History Trail. https://www.youtube.com/watch?v=NMp81goMAo4&feature=em-share_video_user


Helping our Heroes
Vets 4 Hire is a program, that began through legislation sponsored by Councilmember Dunn that bridges the gap between military and civilian experiences through six-month paid internships at King County. Participants learn vital job-seeking skills and get connected to community support services tailored to their needs. If you or someone you know would benefit from a Vets 4 Hire fellowship check out this link: https://kingcounty.gov/audience/employees/careers/vets4hire.aspx.
Take Winter by Storm
Since November is historically the rainiest month in Washington State, Councilmember Dunn participated in a Take Winter By Storm event designed to inform Washington Residents about how to prepare for natural disasters brought on by winter weather. The event also highlighted the completion of the Lyon Creek Flood Mitigation Project at Lake Forest Park's Town Center preventing a predicted $4 million in flooding damage.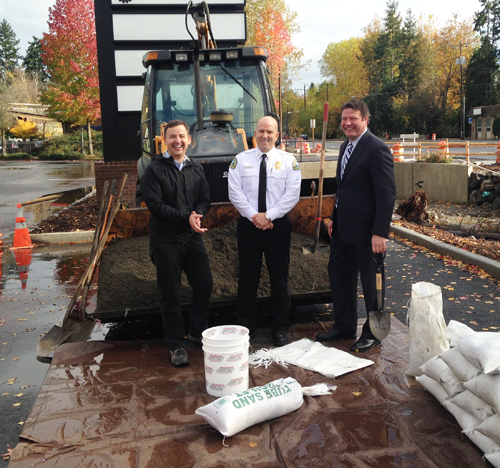 19th Annual King County Mental Health and Substance Abuse Legislative Forum
I had the privilege of joining residents, Washington State Legislators, and my colleagues on the Metropolitan King County Council, at a Town Hall style forum addressing mental health and substance abuse in our county. This event was an opportunity to collaborate with the larger community to think creatively about how to optimize those services to reach those in need.
Addressing Flood Control
Lake Boren in Newcastle is prone to flooding. Councilmember Dunn toured the Lake with Newcastle Mayor Steve Buri and Jeff Brauns, Director of Public Works, this week and was updated on the progress of flood mitigation work around the area. To date, the the county and the Flood Control District have provided nearly $550,000 to the city of Newcastle for this project. Working together, the city and the county hope to protect the surrounding area from future flooding.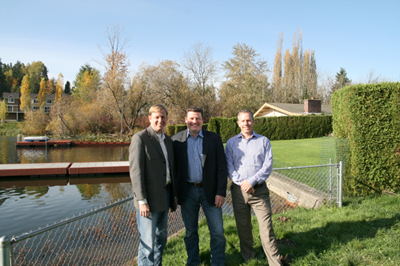 Maple Valley City Council- State of the County Address
Councilmember Dunn addressed the Maple Valley City Council on Oct 12, to update them on several key issues such as the expansion project at Ravensdale Park, which was a collaborative effort between the City, County and The Ravensdale Park Foundation. The Councilmember also provided updates on the County Budget, increased Metro bus service to the city, the Lake Wilderness Trail Paving Project, and the King County Flood Control District.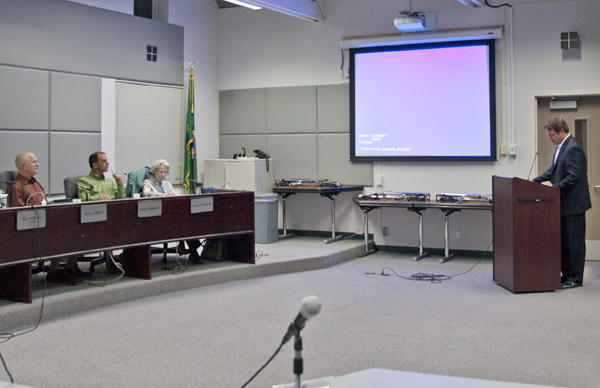 New LED lights operational at Petrovitsky Park
Petrovisky Park sport fields in the unincorporated community of Fairwood have new LED lights. These new lights give off less glare and are extremely energy efficient.
"Petrovisky Park is busy year round, so it just made sense that the county provide state of the art lighting for their sport fields," said King County Councilman Reagan Dunn who represents District 9, which includes Fairwood. "The neighbors have less light pollution, it's cost effective, and the players have better visibility for night games; it's a win for everyone."
King County Parks estimates the retrofit will provide at least a 60-percent reduction in energy use, or roughly $9,500 in annual savings. Read more