Information for Jurors
For all Jurors summoned to appear for Superior Court jury selection
NOTICE:
Juror Candidates summoned to the Superior Court for service
Do NOT report to any court location unless you have been given specific instructions by a judge or bailiff ​by email or telephone.
Effective February 17, 2021 a limited number of in-person criminal trials may be conducted in King County Superior Court. These trials will adhere to public health guidelines, and may be stopped at any time, if necessary to protect the health of participants and the public.
To reduce the number of people at Court facilities, jury selection for both civil and criminal trials is being conducted remotely.
If you are not contacted by a bailiff to schedule jury selection by the close of business on your summons date, you were not selected to a trial and your obligation for this jury term has been completed.
Revised Jury Summons & Communication Process
If you received a Jury Summons from the King County Superior Court it is important to read the full document carefully. Your response is due as soon as possible. The most efficient way is reply is via the online Juror Portal.
Thank you for your patience. Jury Services is experiencing high volumes of calls and emails. If you have not heard back from us, no action is needed, even if it is the week of your service. Continue to check your email, including your spam folders.
Please: Do not come in-person to the courthouse until given a personal appearance date, time, and location by a Court Bailiff.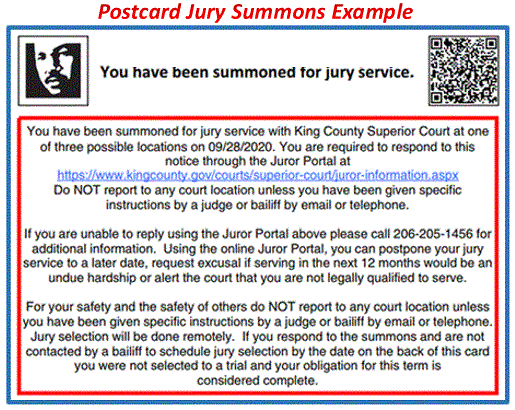 Contact Jury Services:
(206) 477-1320 (General info)