Brightwater Treatment Plant
The Brightwater Treatment Plant is located along State Route 9, north of Woodinville, in unincorporated Snohomish County.
The plant is part of King County's regional wastewater treatment system.
Every day Brightwater treats wastewater from homes, offices, schools, agencies, businesses and industries in north King County and south Snohomish County.
Brightwater has the capacity to treat an average of 36 million gallons of wastewater per day (mgd). By 2040, treatment capacity may be expanded to 54 mgd. These capacities are for average wet-weather flows.
The plant design integrates landscape, architecture, wildlife habitat, engineering, art, and education.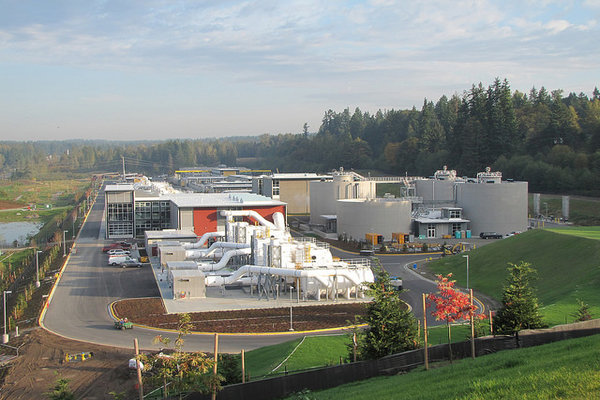 Brightwater Treatment Plant
View more photos on our Flickr site .
Contact us
24 hour emergency and odor reporting: 206-263-9500
Administration: 206-263-9465

Address
22505 State Route 9 S.E.
Woodinville, WA 98072-6010;
Related content