This guide provides information to help you better use Metro services during snow.
How do I know if my bus route is affected by the weather?
The snow, ice and flood map shows how weather is affecting bus routes in seven areas of King County. At a glance, you can see how weather conditions affect routes in your area based on each area's color.
What the map colors mean
Green means buses are operating on their regular schedules.
Yellow means some buses are running on snow routes.
Red means all buses are operating on snow routes; some routes may be canceled or delayed.
Blue means the Emergency Snow Network is in effect.
Please note
Metro's online Trip Planner and third-party apps, such as One Bus Away or Google Maps, provide results that are based on scheduled data for regular service. They do not reflect planned or unplanned snow reroutes or the Emergency Snow Network.
What happens to my bus route when it snows?
Depending on how bad the weather is, three things can happen to your bus:
Your bus runs on its regular schedule

You can find route information listed on the Schedule & Maps page.

Schedules & Maps

Your bus runs on its snow route

You should plan ahead by learning the snow route of your bus.

Snow Routes

ESN may go in effect

During the worst weather, Metro may enact its Emergency Snow Network (ESN). Your bus may be canceled.

About the ESN
How can I find out if my bus is on time or canceled?
Check our Service Advisories page.
Use Metro's Text for Departures tool to quickly find the next departures at your bus stop. Text your transit stop ID (on the sign at your bus stop) to this number: 62550, and you will receive a message a few seconds later with up-to-date schedule information. More info…
Please note: When buses are not operating along their regular routes or serving their normal stops, "real-time" departure predictions at specific stops may not be reliable.
Will my bus stop change if buses are operating on snow routes or the Emergency Snow Network?
If your bus is running its snow route or if the Emergency Snow Network has been activated, it's possible your bus stop may change. Check our Service Advisories page for the latest transit alerts, which includes temporary bus stops and relocations, before heading to your stop.
During severe winter weather, Metro may activate its Emergency Snow Network (ESN), a reduced network of bus routes and chained shuttles designed to serve the most riders in the safest way possible. Metro's ESN focuses bus service on main roadways that will be plowed and de-iced and avoids steep hills.
Metro will announce its intended activation of the ESN one day in advance. The ESN remains in effect for an entire service day, even if conditions improve.
ESN System Map
Route 90: Downtown Seattle, First Hill and Capitol Hill
When Metro routes serving Seattle, First Hill and Capitol Hill operate on their snow routes, Metro also activates special shuttle service Route 90 to serve these areas. The route number does not appear on any bus stop sign, but all bus stops along the shuttle route will be served, road conditions allowing. If snow and ice are present on street surfaces, stops on hills/inclines cannot be made. Please wait for a bus at a stop that is not on a hill. When it operates, Route 90 will run approximately every 20 minutes (beginning on 3rd Ave at Virginia St) weekdays, only, from 5:30 AM to 11:30 PM.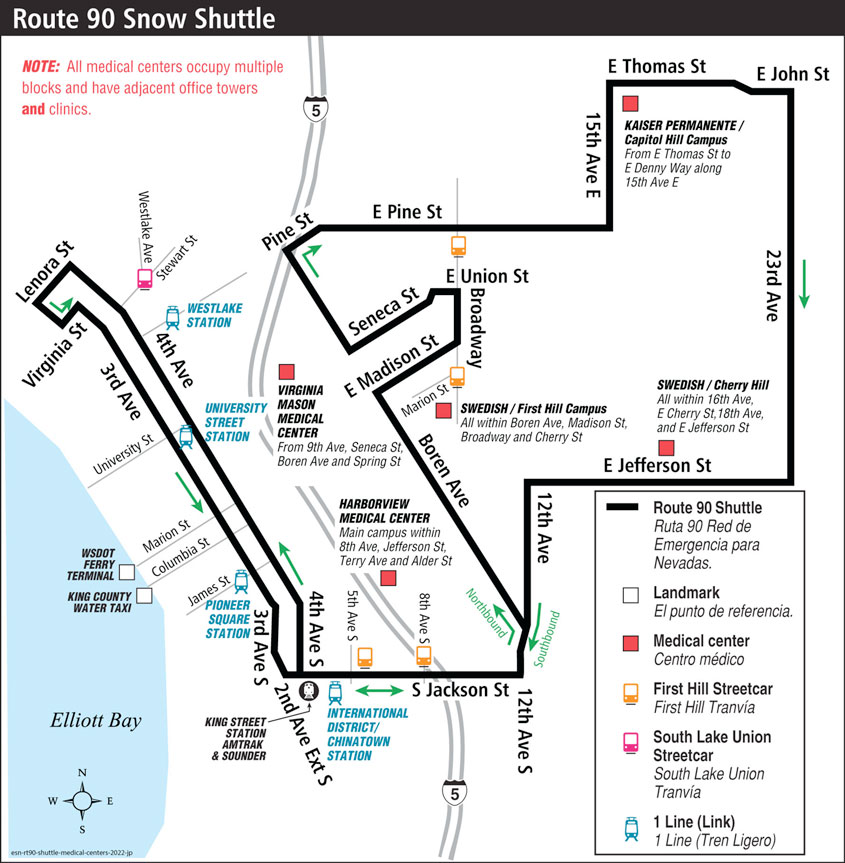 Access Paratransit Service
Call 206-205-5000, WA Relay 711 or 1-866-205-5001.
Access riders should contact the call center on days with snow or icy conditions. The call center's phone system will provide special announcements when service is either disrupted or suspended. Access vehicles may still be available for emergency services such as life sustaining trips.
King County Water Taxi
May be delayed or canceled due to winter weather conditions. Check our Water Taxi page for current schedules.
Via to Transit, Pingo and other Metro services
May be delayed or canceled due to snow or icy weather conditions.
Below we provide some winter or snow route information from other transit agencies: