Judge Joe Campagna - Superior Court
How to contact a King County Superior Court judge and get ready for your trial or motion.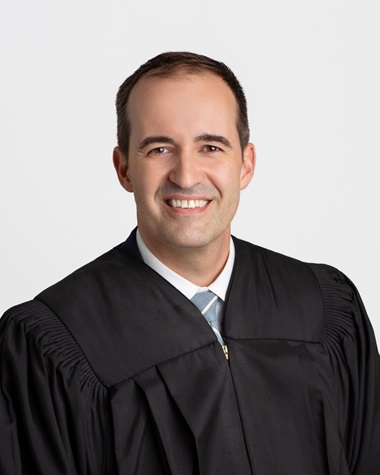 Bailiff: Sam Zarky

Courtroom Number: 4F

Department: 39

Assignment: Kent Trial
For the fastest response, please contact the court via email.
Biography
Judge Campagna was appointed to the King County Superior Court in August of 2022. Prior to joining the Superior Court bench, Judge Campagna was a judge in the King County District Court, where he helped start the Shoreline Community Court and presided over every type of civil and criminal matter that comes before the court. Before becoming a judge, Judge Campagna was an attorney at Schroeter Goldmark & Bender, representing people in complex civil and criminal matters, and trying cases to juries at every level of trial court in Western Washington. Judge Campagna graduated from Vermont Law School and began his legal career as an environmental law attorney in Vermont. Judge Campagna currently serves on the court's education and local rules committees.
Prior to Contacting the Court…
Please review the following links before contacting the court:
Office of Interpreter Services
Litigants without counsel (pro-se) may find the following resources helpful:
Legal Assistance - King County
Family Law Facilitators - King County
When contacting the Court, please ensure that the Case Name and Cause Number are included in all correspondence (the subject line of the email, at the beginning of a voicemail).
Judge Campagna and his staff prefer communication via email rather than telephone. All communication will be answered in the order in which it is received.
Please notify the court immediately if your case settles or you need to strike a motion.
Trial Information
Trial is typically held Monday through Thursday, 9:00 AM – 4:00 PM.
Please refer to these instructions on preparing for trial.
Motion and Hearing Requests
Please refer to these Instructions for Scheduling Civil Motions prior to noting a motion or requesting a hearing.
Dispositive motions are typically heard on Fridays. Please email hearing requests to the bailiff, copy all parties, and include what type of hearing is requested and the bailiff will coordinate scheduling with the parties.
Dispositive motions hearings are usually allotted one hour. Please advise the bailiff if you are requesting additional time due to multiple parties, multiple motions, or complex matters.
Please Note: most motions do not require oral argument. Please refer to LCR(7) for information on requesting oral argument.
Please refer to LCR(7) for information on Motions Shortening Time.
Proposed Orders and Working Papers
Please refer to these Instructions on Delivering Documents to the Court.
Judge Campagna's Court is paperless. Parties are encouraged to use the eWorking Copies service through the Clerk's Office.
Per local court rules, proposed orders must accompany all motions and opposition submissions and should be submitted in Word (.docx) format. The Court does not accept working copies via email except for stipulations (see below) or with prior Court approval.
Stipulations
Judge Campagna accepts stipulations and agreed orders via email. The submission must be in Word (.docx) format and the stipulation must be subjoined with the proposed order. Please refer to these Instructions for Scheduling Civil Motions.
Weddings
Judge Campagna performs weddings, by appointment, in his courtroom at the Regional Justice Center in Kent on weekday evenings. Please email the bailiff, Sam Zarky, for scheduleing, fee, and other information at Campagna.Court@kingcounty.gov