King County Councilmember Sarah Perry
Learn more about Councilmember Sarah Perry, who represents King County District 3. Perry's current term runs from 2022 to 2026.
Friends and Neighbors,
First, I hope that you, your loved ones and community members are looking forward to the promise of 2023! If you and I have not met yet, my name is Sarah Perry, and I am thrilled to begin my second year as King County Councilmember for District 3.
As the councilmember for District 3 I represent the cities and/or surrounding areas of Issaquah, Sammamish, Redmond, Woodinville, Duvall, Fall City, North Bend, Carnation, Bothell, Skykomish, Snoqualmie, and Snoqualmie Pass. District 3 is a diverse and growing region and I'm excited to work together with leaders from each of our different communities to tackle the most pressing issues and help build a promising future for all
Some facts about District 3:
252K+ total residents with 157K+ registered voters—growth of 46K residents since 2010
70% (175K) of D3 residents live within city limits and 30% (77K) live in unincorporated areas
36% (91K) of D3 residents are from diverse ethnic & cultural backgrounds
23% (57K) of D3 residents moved here from a different country
In 2023, we have three main priorities. Behavioral health access, environmental protection and preservation, and the development of the creative economy, which is everything from arts, culture, heritage, farming, and more. There is so much more to come but for now don't hesitate to reach out if you would like to have a cup of coffee and conversation in person, over zoom or over a phone call. I look forward to all we can do together!

East Lake Sammamish Trail segment opening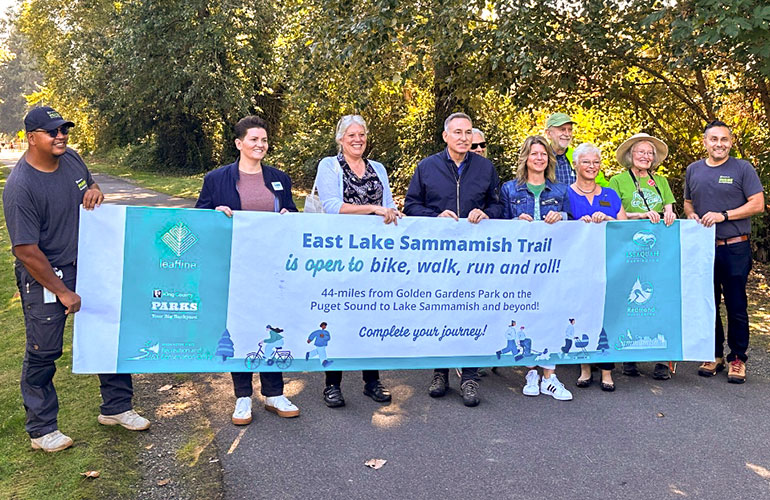 October 7, 2023 | We celebrated the grand opening of the 11-mile Eastlake Sammamish Trail segment, which reconnects our Eastside communities with the Lake Sammamish shoreline and provides more opportunities for transportation, recreation, and community connection! This historic investment in public infrastructure has been decades in the making and provides cyclists, pedestrians, joggers, walkers, and movers of all ages and abilities another way to get outside and enjoy our big backyard.
National Recovery Month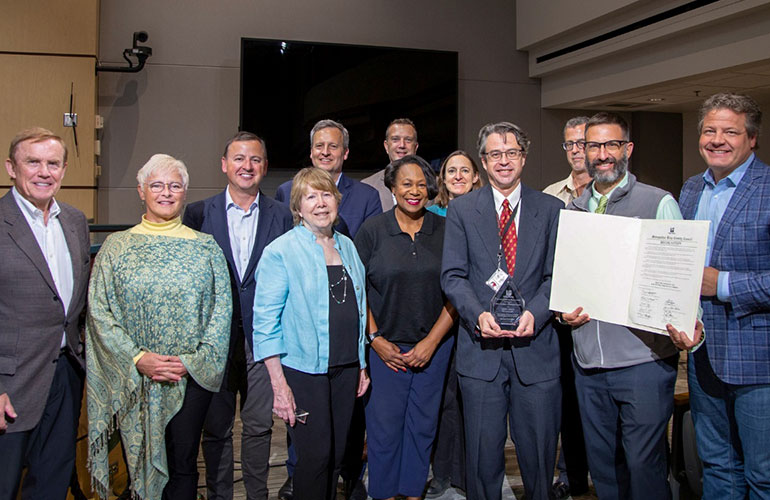 September 5, 2023 | We proclaimed September as Behavioral Health Recovery Month and recognized David Coffey and the Recovery Café as this year's Recovery Champion. National Recovery Month is observed every September to promote and support new evidence-based treatment and recovery practices, the proud recovery community, and the service providers and communities that make recovery possible! We hope that all residents are able to observe this month with programs and events that spread the message that "recovery is for everyone: every person, every family, every community." The King County Recovery Champion Award is given by the King County Council during National Recovery Month and presented in partnership with the King County Recovery Coalition. David has 20 years of experience in the recovery space and has spent 18 years as the Executive Director of the Recovery Café, and we are honored to be able to present him with this recognition. Recovery Café teaches people ways to manage mental health, maintain sobriety, and build community, helping each individual in recovery reclaim life as a person worthy of giving and receiving love! Thank you to Councilmember Reagan Dunn for bringing this important and vital recognition to our Council meeting!