Flooding in the Cedar River Watershed
About flooding in the Cedar River watershed
The Cedar River is within the Lake Washington watershed. A watershed is an area of land that drains rainfall and snowmelt into larger bodies of water. The Cedar River has its headwaters in the Cascade Mountains and drains rainwater into Lake Washington. The watershed has a variety of land uses, including protected forests, residential, and urban areas such as downtown Renton. Madsen, Taylor, and Rock creeks flow into the Cedar River. These creeks are minor contributors to flooding in nearby communities along the Cedar River.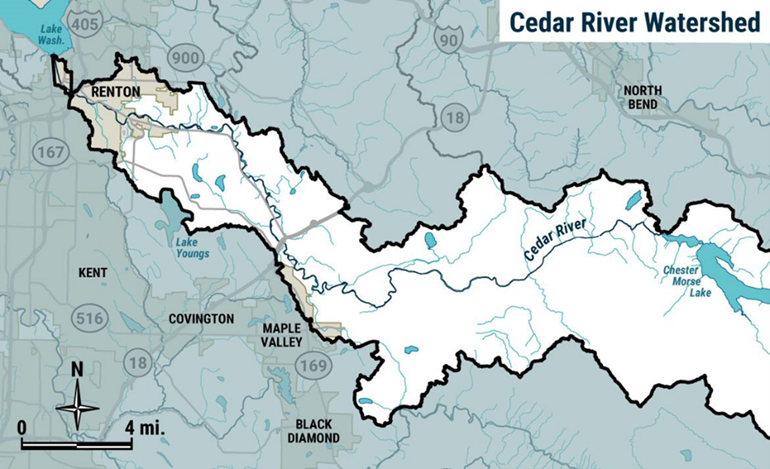 Flooding is common and widespread through many parts of the Cedar River valley.
Flood flows can be fast and dangerous even if they are not that deep.
These flows can cause damage to homes and frequently cover roadways, making them impassable and isolating residences.
Erosion and channel migration can also cause damage to surrounding properties and contribute sediment and trees to the river.
These materials may remain in place or be carried downstream and deposited elsewhere.
Trees and sediment in the river may deflect or redirect flows in ways that could damage public or private properties.
Flood risk reduction facilities in the Cedar River address bank erosion and channel migration risks. Most of the current flood risk reduction facilities in the watershed work together to fix the Cedar River in the same position. They also protect infrastructure of some kind (highway, communications lines, and utilities). The City of Seattle operates the Masonry Dam in the upper watershed to provide drinking water supply and generate power. Any flood risk reduction provided by the dam is incidental.
The lower 1.25 miles of the Cedar River through Renton is the only segment fully lined by levees to reduce flood risks to downtown Renton's residential, business, and industrial development, including the Boeing Company and Renton Municipal Airport. A levee is a raised structure built along a riverbank to contain, control, or divert the flow of water and protect the land along the river from temporary flooding.
Learn more about creating a flood resilient future in your watershed
Learn about the Cedar River Capital Investment Strategy, adopted by the King County Flood Control District, which lays out a plan of action to reduce flood risks.
The most effective strategies for King County to reduce flood risk in the Cedar River watershed have been to:
Build setback levees;
Buy flood and erosion prone properties from willing sellers.
Both buyouts and setback levees allow for opportunities to restore natural areas. This provides space for the river velocity to slow down, and side-channels where water can flow away from human developments. Restoring natural areas also provides habitat for fish and wildlife.
There are no new facilities currently planned in the Cedar River watershed. King County, as service provider to the King County Flood Control District, regularly monitors and maintains levees and revetments to reduce flood risks throughout the watershed. Learn more about some of the projects, such as repairs planned for several facilities, in the Current Capital Projects section below. Upgrading older levees to contemporary standards that are more robust and fish-friendly will reduce flood risk throughout the watershed.
Projects and studies
Current projects and studies
Cedar River Trail 5 Repair project (located beneath Lower Jones Road Bridge at State Route 169).

The Cedar River Trail 5 (CRT5) revetment reduces the risk of flood and erosion damage to the Cedar River Trail, State Route 169, and utilities. A significant flood in February 2020 damaged CRT5 creating a flood and safety risk. King County plans to repair the damage at CRT5 in the summer of 2024.
Belmondo Levee Repair project (1 mile north of Southeast Jones Road and 196 Avenue Southeast intersection with State Route 169).

The Belmondo Levee on the Cedar River reduces the risk of flood damage to the Cedar River Trail, a regional fiber optic line, and SR 169. A significant flood in February 2020 damaged the Belmondo Levee creating a flood and safety risk. King County plans to repair the damaged levee and make habitat improvements at the site in the summer of 2023.
Key reports, studies, and surveys
Recently completed projects
Cedar River Trail Site 2 and Riverbend Levee Setback and Floodplain Restoration 2022 (the former Cavanaugh Pond Natural Area)
Jan Road Levee Setback project 2022 (1.5 miles south of Cedar Grove Road)
State Route 169 Flood Risk Reduction Project 2021 (0.25 miles north of Cedar Grove Road)

In 2021, King County replaced undersized culverts beneath State Route 169 and the Cedar River Trail. The culverts restricted runoff during high-rainfall events. Flooding from the runoff caused hazardous road conditions, isolated nearby residences, and caused repeated closure of the highway. Bigger culverts now minimize the risk of flooding of the highway and nearby residences. The new culverts also improve fish passage by allowing unobstructed access to upstream habitat.