Herzman to Camp Freeman Project
This webpage includes an overview and anticipated schedule of the Herzman to Camp Freeman project. As the project is developed opportunities for public input will be included.
Project overview
The Herzman to Camp Freeman Project—formerly known as the Herzman Levee Setback Project— will provide flood and erosion protection along a half-mile stretch of the Cedar River. The project area runs along the right bank of the Cedar River, when looking downstream, between Renton and Maple Valley, and about four miles east of the I-405/SR 169 interchange in unincorporated King County.
The need for the project was originally identified in the Cedar River Capital Investment Strategy, completed in 2017. King County is implementing this project as service provider to the King County Flood Control District.
The project area includes the Herzman Levee, Camp Freeman Revetment, and a portion of the Buck's Curve Revetment along the right bank of the river, when looking downstream. These facilities reduce flood risks to six homes and to Southeast Jones Road. The Cedar River Trail Site 2 (CRT2) Revetment on the left bank helps protect State Route 169, the Cedar River Trail, and underground utilities.
A major flood in February 2020 caused the river to quickly change course in the project area. The river cut across the floodplain upstream from the project area, abandoning its channel next to the Herzman Levee. Downstream, the river eroded up to 80 feet of floodplain that provided a buffer between the river and the Camp Freeman and Buck's Curve revetments. This significantly increased the risk to nearby homes and Southeast Jones Road.
Damage also occurred at the furthest upstream portion of the Herzman Levee that protects Southeast Jones Road, leaving the riverbank in an overly steep condition. The river has changed course, and the Herzman Levee is not in contact with the river except when there is major flooding.
The project team is evaluating site conditions and making plans to repair the damaged levee and revetments.
Bank stabilization at CRT2 was improved as part of the Riverbend Levee Setback and Floodplain Restoration Project, completed in the summer of 2022. The projects are working together to maximize flood risk reduction and habitat benefits.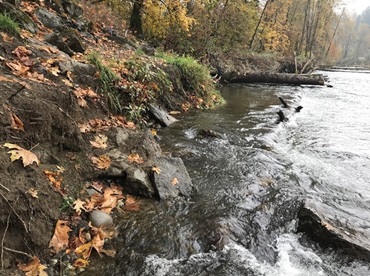 Project goals
Reducing flood and erosion risks to critical infrastructure and the people who live nearby.
Reconnecting the river and its floodplain to slow flood water and improve habitat for juvenile salmonids.
Enhancing native vegetation in the riparian corridor.
Integrating efforts with the Riverbend Levee Setback and Floodplain Restoration Project.
Project schedule
| Activity | Date |
| --- | --- |
| Acquisitions and easements | 2017 to 2022 |
| Planning and alternatives selection | Summer 2022 to Spring 2021 |
| Preliminary design (30 percent) | Winter 2021 to 2022 |
| Final design and permits | Winter 2022 to 2023 |
| Construction contracting | Winter 2023 to 2024 |
| Anticipated construction completion | Fall 2024 |