Cove Creek Restoration Project
Vashon-Maury Island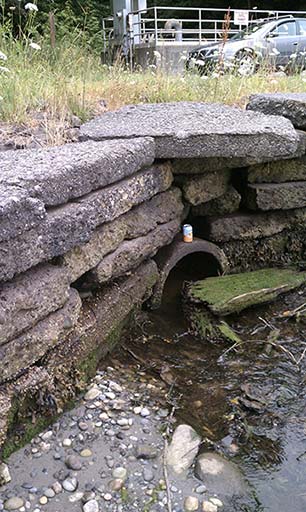 King County is planning to start construction on the Cove Creek Shoreline Enhancement Project in October 2015. Cove Creek currently flows through a 24" concrete culvert (pipe) and under the existing bulkhead and 137th Pl near the Puget Sound Energy Facility. King County will replace this culvert with a 12-foot-wide box culvert to improve fish access to Cove Creek and associated wetlands.
King County will also place some gravel on the beach along the shoreline edge east of the culvert to replicate a more natural shoreline.
Frequently asked questions:
Why?
Replacing the culvert will allow for a more natural stream mouth that allows for easier access to the creek for fish, potentially including chum salmon, coho salmon and juvenile chinook salmon and cutthroat trout.
Adding beach gravels will create a more natural shoreline where driftwood and other material may accumulate. This new beach may also support surf smelt spawning. Monitoring the movement and distribution of the gravel over time will also tell us more about active processes at the site.
Why not replace the bulkhead?
This project is a habitat enhancement project focusing on improving stream access and improving the shoreline for wildlife. Shoreline armoring and bulkheads have been shown to change the way beaches form and shape and negatively affect habitat. Bulkheads often do not allow for beneficial beach material like driftwood to accumulate.
While adding gravels to only one part of project site is not ideal, we are experimenting to see if we can improve the existing habitat while keeping the existing shoreline protection in place. Removing all the shoreline armoring in the area is not an option due to the location of the road, pump station and power transmission facility.
Won't the gravel just move around or wash away?
We expect the gravel to shift and sort with wave action over time. We are experimenting with this technique and will be monitoring the site to better understand its potential for use in future beach enhancement projects.
What sort of impacts do you expect to the neighbors?
We anticipate that this project will have impacts to traffic, parking, and residential power in the area during construction. Construction related noise and dust will occur during working hours.
This description was modified to reflect design changes on 3/25/2015 and will be updated when we have more information.
When will this project be constructed?
Project construction has been delayed for budgetary reasons. We hope to construct the project in late summer of 2016, assuming the budget issues are resolved.
We would like to hear from local residents about their parking needs in the area to help us better mitigate those impacts.
Please send comments to Greg Rabourn, Vashon/Maury Island Steward:
---
Project location and impacts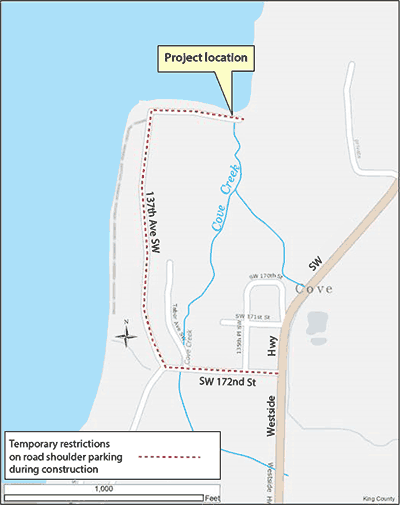 Project documents
For more information about the Cove Creek Restoration Project, please contact Greg Rabourn, Vashon Island Steward, King County Watershed Stewardship Unit.