Riverbend Levee Setback and Floodplain Restoration
Cedar River - Lake Washington Watershed
Subscribe to project updates
Project overview
The Riverbend Levee Setback and Floodplain Restoration Project builds upon a long-term effort to protect public safety and restore salmon habitat by acquiring property and relocating residents from a flood-prone portion of the Cedar River floodplain.
The project goals are to:
Restore riverine processes and functions in the Cedar River and its floodplain in order to improve the quality, quantity, and sustainability of salmonid spawning and rearing habitat;
Reduce flood and erosion risks to people, property, and infrastructure;
Accommodate public use consistent with future ecological conditions at the site; and
Balance flood and ecological benefits and other objectives with project costs.
The project will reconnect approximately 52 acres of floodplain, enhance connection to existing off-channel habitats and create new side-channel habitat on the site. This will be accomplished by removing portions of existing levee/revetment, excavating side channels, raising the bottom elevation of a relic gravel mine (Cavanaugh Pond) to surrounding floodplain elevation and placing wood. The project will also include new buried setback revetments outside of the floodplain that will protect SR 169, the Cedar River Trail and adjacent private property from potential future channel migration.

The project is expected to significantly increase off-channel habitat availability and improve existing juvenile and adult salmon habitat. The loss of these types of habitat features due to bank armoring and disconnection of off-channel habitat has been identified as a primary factor limiting Chinook salmon productivity in the Cedar River. This project is prioritized in the WRIA 8 Chinook Salmon Conservation Plan and will bring the watershed 40% closer to its goal of 130 acres of floodplain reconnection by 2025.
Riverbend Levee Setback and Floodplain Restoration Project from King County DNRP on Vimeo.
Project location
The project site is located on public property along the left bank of the Cedar River between River Miles 6.5 and 7.5 east of Renton in unincorporated King County. The project site encompasses Cavanaugh Pond Natural Area and the previous site of the Riverbend Mobile Home and RV Park, which King County purchased in 2013.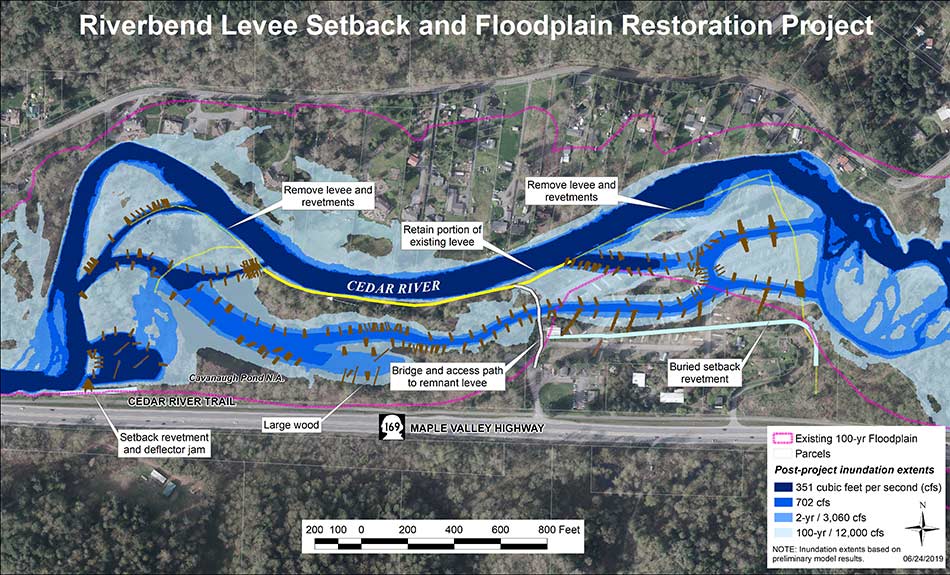 Project timeline
*Earthwork may begin as early as Fall 2019
Project documents
(Files available in Adobe Acrobat)
Project design and implementation funding
Floodplains by Design Partnership
King County Water and Land Resources Division
Washington State Salmon Recovery Funding Board
For more information about the Cedar River Riverbend Project, please contact Jon Hansen, Project Manager, Ecological Restoration and Engineering Services Unit.