Chum salmon identification
Chum salmon
Oncorhynchus keta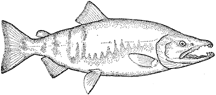 Photos from Inland Fishes of Washington by Whitney and Wydoski, © 1979 University of Washington Press. Reprinted by permission of the University of Washington Press.


Identification characteristics:
Rare in Lake Washington
No distinct black spots on back or caudal fins
Males are dark blue above with reddish-purple vertical markings and well developed teeth
Females less colorful, often with horizontal bar along sides
Lower gum line is black
Range in length from 30-42 inches
Spawn timing:
November through late December
Now that you know all about identifying salmon in streams, test yourself! Click on the mystery fish page to find out more!