WaterWorks Grant Program
Sound investments in clean water and community
Update
December 2022
$5 million in funding is available for the 2023/24 grant cycle. WaterWorks applications will be available January 4, 2023, and applications are due March 8, 2023; see the full schedule. and view grant guidelines .
Free online Information Sessions will be held January 19 (12-1:30 pm) and January 23 (6-7:30 pm), 2023. For more information and to register visit this page. A recorded version of the session will be available online by early February.
All prospective applicants are welcome to sign up for a short 1-on-1 consultation with staff on their projects via phone; first-time applicants are particularly encouraged to sign up. Email water.grants@kingcounty.gov to sign up for a consultation.
To get updates on information sessions and more, sign up for email alerts under "Stay connected" on this page.
The WaterWorks Grant Program provides approximately $5 million in funding every two years to organizations carrying out a variety of water quality improvement projects in the service area for King County's regional wastewater system. Nonprofits, schools and educational institutions, cities, counties, tribes, and special purpose districts are all eligible to apply—and partnerships are encouraged.
There are two different tracks for applying for grants: the competitive track and the council-allocated track. Both tracks have the same eligibility criteria, but the application and selection process are different. Proposals for the council-allocated track are selected by King County Council.* WaterWorks staff administer all grants after they are awarded, and all grants have the same reporting requirements.
*Contact your councilmember's office directly for questions about the WaterWorks council-allocation review or selection process. For a map of council districts and contact info, visit the council district finder.
Kent Meridian High School Rocks a Rain Garden, August 16, 2022
WaterWorks grants $5 million to community water quality improvement projects for 2022-23, November 17, 2021
Read more stories about WaterWorks-funded projects.
Login to create an account, apply for a new grant, or manage existing grants.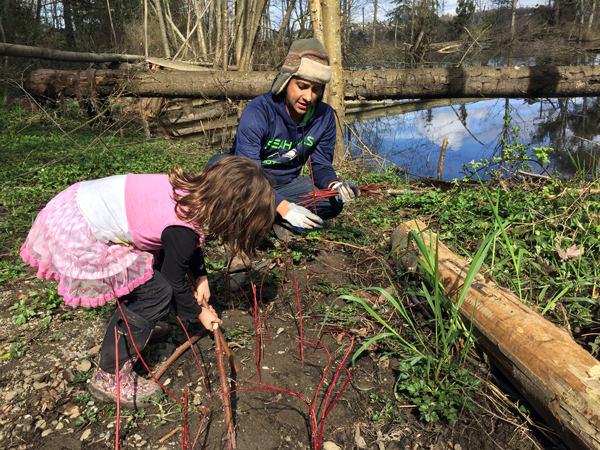 Contact
Elizabeth Loudon
206-477-4297