King County's Role in the Superfund Cleanup of the Lower Duwamish Waterway

King County is helping to pay for and implement EPA's Superfund cleanup plan and also provides education and community support through Seattle & King County Public Health.
Before today's pollution control practices were in place, all properties in a wide area discharged stormwater and wastewater into the waterway during heavy rains. The stormwater and sewage contained contaminants that settled into the sediment at the bottom of the river. The King County International Airport (Boeing Field), the County-run regional wastewater treatment system, and some leased County properties contributed to these releases. In 2000, the County started discussions on how to best address the pollution problems in the Lower Duwamish.
In 2001, the County, together with the City of Seattle, Port of Seattle, and Boeing, voluntarily signed an order with EPA to start the investigations to determine how best to clean up the waterway under the Superfund process. There are many other companies, businesses and local governments, known as "potentially responsible parties," or PRPs, that also contributed to the historical pollution and will be part of the cleanup.
The County has worked for decades to restore the waterway by investing in habitat restoration, water quality improvement, pollution controls and sediment cleanups. These investments in pollution control and CSO reduction projects have successfully removed decades of contamination from some of the waterway's most contaminated areas. Read more about King County's long-standing commitment to the Duwamish.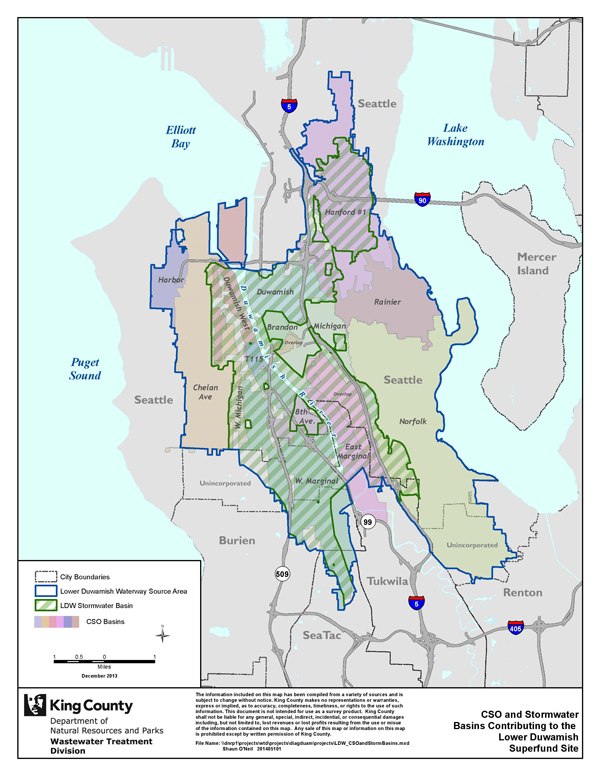 CSO and Stormwater Basins Contributing to the Lower Duwamish Superfund Site