Working for our community
I am proud of the work I have done to fight for our community on the King County Council. Advocating for this diverse district is an honor and a privilege. Below are just some of the issues that I have worked on for our community. If you have any questions or thoughts about any issues that are facing our community, please reach out at Reagan.Dunn@kingcounty.gov.


Fighting for Public Safety
My top priority as your Councilmember is public safety. We are in the middle of a public safety crisis, with crime at its highest rate in 30 years, record increases in homicides, and a surge in gun violence. We must work together to fully fund our Sheriff's Office. This means making sure our County is doing all it can to support our law enforcement officers as they protect our neighborhood from violent crimes, while also striving to build relationships and maintain accountability with the communities they serve. I remain committed to this work. Some of my recent initiatives include:

• Successfully advocating for the funding of an officer recruiter to fill over 50 open positions in the King County Sheriff's Office, as well as an officer wellness program to look after the mental health of the men and women that protect us.

• Protecting the KCSO Fairwood Substation from being closed by advocating alongside Fairwood residents who wanted to preserve the precinct t and working with my colleagues to prevent it from being cut from King County's budget. In June of 2021, the full King County Council approved a six-year lease extension on the Fairwood substation.

• Recognizing, honoring, and memorializing the officers that made the ultimate sacrifice for our community through the creation of a memorial for fallen deputies in the King County Courthouse.

• Upgrading the County's emergency communications system, known as E-911, which plays a vital role in sending emergency services to the residents of Enumclaw, as well as Seattle, suburban and rural King County.


Addressing the Homeless Crisis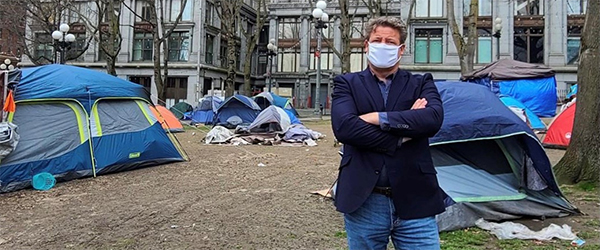 I've worked hard to improve King County's response to our growing chronic homelessness problem. I believe that letting people live on the streets with no path to treat their addiction or mental illness is not compassion—it's indifference. That's why I have been doing everything I can to solve the root causes of homelessness to help those experiencing it, while also protecting our community. Recently, this has included:

• Introducing legislation to create homeless outreach teams in unincorporated King County that would connect individuals experiencing, or at risk of experiencing, homelessness with housing options and other services aimed at reducing instances of homelessness.

• Investing $4 million in improving and expanding behavioral health services in rural King County to give the residents that live there the necessary tools to recover and treat addiction and mental illness.

• Working with my colleagues to address the serious crime and health problems that were happening at City Hall Park by the King County Courthouse to make sure that everyone who needed to visit and work at the courthouse could do so without fear.


Honoring Those Who Fought for Our Country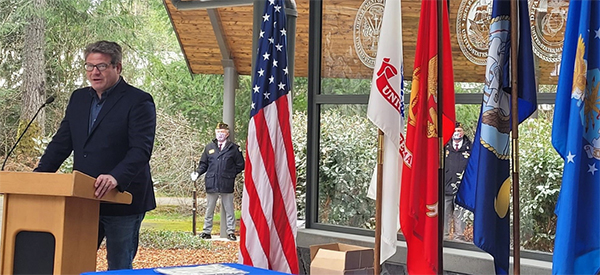 It is important to me that King County does all we can to ensure that the men and women that served our great Country our taken care of when they come home. 5.2% of our residents are veterans. That means that over 100,000 veterans live in King County alone, which does not include the thousands of others who live in the surrounding counties but access services in our County. These are our family members, neighbors, and community leaders. It is for all these reasons that I have gone to work for our servicemembers and their families. Some of the things I have done include:

• Establishing the Vets 4 HIRE program which grants veterans access to a paid six month to one year internship and a mentor.

• Delivering dollars for veterans organizations through the Veterans, Seniors, and Human Services Levy, which provides a range of beneficial services for veterans and their families, including treatment for Post-Traumatic Stress and temporary and transitional housing, and also adds funding and resources for the Veterans Incarcerated Project.

• Supporting the Veterans Justice Initiative which allows incarcerated veterans, who have often have experienced a tremendous amount of hardship while deployed and transitioning back to the civilian world, in-jail services that include: assessment and referral for substance abuse treatment, mental health counseling, transitional housing assistance, and job referral/placement services.

• Honoring and remembering the life of our neighbor 1st Lieutenant Michael R. Adams, who died serving our country overseas during Operation Iraqi Freedom, by dedicating the road he grew up on in Fairwood in his name.


Serving Our Diverse Communities
District 9 is one of the largest Council Districts in King County, spanning across East and South King County and encompassing farmland, high-rise buildings, and everything in between. In our District, our neighbors come from all backgrounds. According to the 2020 Census, of our 243,627 residents, 39.68% are BIPOC community members; 10.06% are Hispanic/Latinx; and 10.05% solely speak Spanish, Chinese, Russian, Vietnamese, Korean, or Somali. I see my job on the King County Council as serving and representing all members of our community, no matter their background. This is why I've worked to:

• Advocate for the funding of the Bellevue Cross Cultural Center with the City of Bellevue, which will have an impact of children of color for years to come.

• Make sure COVID vaccines are accessible for communities who are disproportionately impacted by the COVID pandemic, through the establishment and funding of high-volume vaccination sites and mobile vaccine units.

• Invest in our children's future through KidsQuest Building for Culture which will give kids of all socio-economic backgrounds a space to grow as well as learn about science, technology, engineering, and math.