Voter Education Fund
Breaking down barriers to voting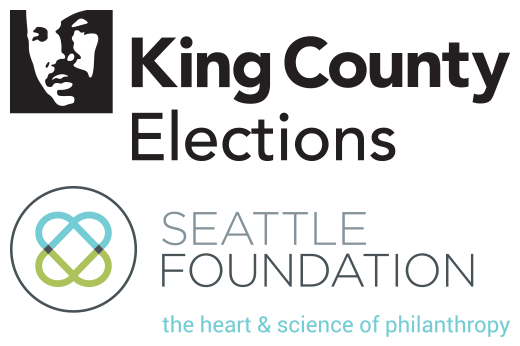 The Voter Education Fund (VEF) is a government, philanthropic and community partnership led by King County Elections, Seattle Foundation and community organizations like you. Since 2017, we have worked to fight voter suppression and increase civic engagement and voter participation among historically excluded communities.
Applications are now open!
King County Elections and Seattle Foundation will commit $950,000 in grants over the next two-years (2021-2022) to more than 30 community organizations (501c3 organizations or organizations with a 501c3 fiscal sponsor) working in King County. To apply, scroll down to see what types of grants we are offering. Applications will be open from March 1, 2021 to April 2, 2021.
What we fund
King County Elections and Seattle Foundation will award grants to community organizations that will provide ongoing campaigns or events focused on one or more of the following during the 2021-2022 election cycles
Voter education or outreach informing historically excluded voters about how voting works in King County (i.e. Who is eligible to vote, what is vote-by-mail, and democracy 101).
Voter registration activities where historically excluded communities work, play or connect.
Nonpartisan opportunities for communities to come together and educate themselves about what's on the ballot.
Culturally appropriate technical assistance in navigating the voting process, such as helping voters change their address or language preference.
Note: Due to COVID-19 applicants should take into consideration the need host or facilitate outreach virtually or outdoors for 2021 activities.
Focus communities
Focus communities for this grantee cycle include, but are not limited to Black, Indigenous, people of color, people experiencing homelessness, people convicted of a felony, limited-English speaking communities, people with disabilities and youth of color.
We will prioritize applications that:
Are led and staffed by individuals reflecting the ethnic and cultural communities being served.
Showcase a history or demonstrated ability to reach and engage community members, especially in relation to voting access.
Have a plan for engaging the focus communities mentioned above.
Grant types
Organizations are invited to apply starting March 1 through April 2. Please note that your organization must be a 501c3 organization or have a 501c3 fiscal sponsor. In the application you may indicate which funding level your organization prefers:
Catalyst Level Funding (up to $40,000 total/$20,000 a year for two years): Provide ongoing voter registration and education in 2021 and 2022 with a variety of approaches to engaging voters or potential voters in their community.
Capacity Level Funding (up to $15,000 or $7,500 a year for two years): Provide a smaller series of targeted events or activities for potential voters in 2021 and 2022.
Preview the Request for Proposal (RFP) and application questions prior to getting started.
View the slides and tips for applying from our first Information Session held March 9.
View our information session held on March 22 . Learn about best practices and tips on how to apply.
Apply for a Voter Education Fund Grant
Timeline
Date
Description
March 1, 2021
Program launches and application period opens.
March 9, 2021
12:00 - 1:30 p.m.
Informational session on Zoom to learn more about the program and application. To attend and receive the Zoom link, send your RSVP to Bao-Tram at b.do@seattlefoundation.org.
March 22, 2021
4:30 - 6:30 p.m.
Informational session on Zoom to learn more about the program and application. To attend and receive the Zoom link, send your RSVP to Bao-Tram at b.do@seattlefoundation.org.
April 2, 2021
Deadline for application submissions.
May 2021
Selected grantee organizations announced.
May 2021
First grant installment distributed.
Early 2022
Second grant installment distributed.
Selection process
Once confirmed that the applicant organization is a 501c3 organization in good standing, applications are reviewed by a panel that includes staff from both the Seattle Foundation and King County Elections, as well as community reviewers. The panel evaluates each applications based on specific criteria including the organization's knowledge and experience with the target population or community, capacity and experience in voter education and engagement, approach to tracking progress and ability to report progress in a timely and consistent manner, field plan, and budget.
Learn more and share
Learn about the Voter Education Fund's past work and what former grantee organizations have to say.
Questions
For questions or assistance please contact:
Bao-Tram Do
Seattle Foundation
b.do@seattlefoundation.org
206-407-4366
Sign up for email or text notifications