Led by Director Julie Wise, King County Elections (KCE) conducts accessible, secure, and accurate elections for nearly 1.4 million voters. Home to one-third of Washington State's voters, King County was the largest vote-by-mail jurisdiction in the world for many years prior to more widespread adoption in 2020. With core values of accuracy, equity, integrity, service, teamwork, and transparency, the team at KCE is committed to ensuring all King County voters can get registered, cast their ballot, and make their voices heard.
In addition to English, KCE is proud to offer ballots, voters' pamphlets, all correspondence, ballot alerts, web tools, voter education, customer service, and outreach in Chinese, Korean, Russian, Somali, and Vietnamese.
Over the years, Director Wise and the KCE team have been nationally recognized for a wide variety of innovative programs, including the Voter Education Fund (VEF). VEF is a first-of-its-kind public-philanthropic partnership that provides grant dollars and technical support from KCE to community-based organizations to conduct non-partisan, unbiased voter registration and education activities throughout the county.
In 2022, KCE was honored with the Election Center's Guardian Award for greatly expanding our bipartisan observation program. With observation opportunities for every step of the process, KCE welcomes election observers from across the political spectrum to see how ballots are handled and processed firsthand. Visitors are welcome to tour the 360-degree observation loop at Elections Headquarters in Renton during business hours.
Other recent honors include:
2022 Election Center Guardian Award for exemplifying the Election Center's Principles and Standards of Conduct – Expanded Observer Access

2022 Election Center Eagles Award for Innovation in Technology – Moving Essential Processes Online

2021 Election Center Eagles Award for Innovation in Technology – Improving Efficiency with the Esri Application Suite

2021 WA Secretary of State Voter Outreach Award

2020 U.S. Election Assistance Commission Clearinghouse Award – Outstanding Innovation in Elections (large jurisdiction) for the Voter Education Fund

2018 National Association of Counties Achievement Award – Community & Economic Development

2018 National Association of Counties Achievement Award – Civic Education & Public Information

2017 Election Center Democracy Award – "Why Vote" Campaign

2017 WA Secretary of State Voter Outreach Award

Many Campaign & Elections Reed Awards and AAPC Pollie Awards for get-out-the-vote and voter education campaigns in 2018, 2019, and 2020
Mission, Vision, and Values
KCE's mission is to conduct accurate, secure, and accessible elections. Our vision is to be a leader in providing inclusive elections. Our core values are:
Accuracy. We rigorously check and re-check every step of the process – as many times as necessary. We are unwavering in our commitment to no voter left behind.
Equity. We believe that democracy works best when all voices are heard. We proactively work to remove barriers to ensure all voters can meaningfully participate in our elections.
Integrity. We bring honesty and integrity to everything we do. We are unshakable in our ethics and do the right thing no matter what.
Service. We recognize that our responsibility to the public and to each other goes beyond simply administering elections. We readily go above and beyond to solve problems, share our knowledge and experiences, and bring the mission and vision of King County Elections to life.
Teamwork. We are better together. We step up for other teams and teammates without hesitation.

Transparency. We believe in radical transparency. We intentionally share our wins and own our mistakes - even when it's not easy. Our elections are observable and understandable to our voters.
Year in Review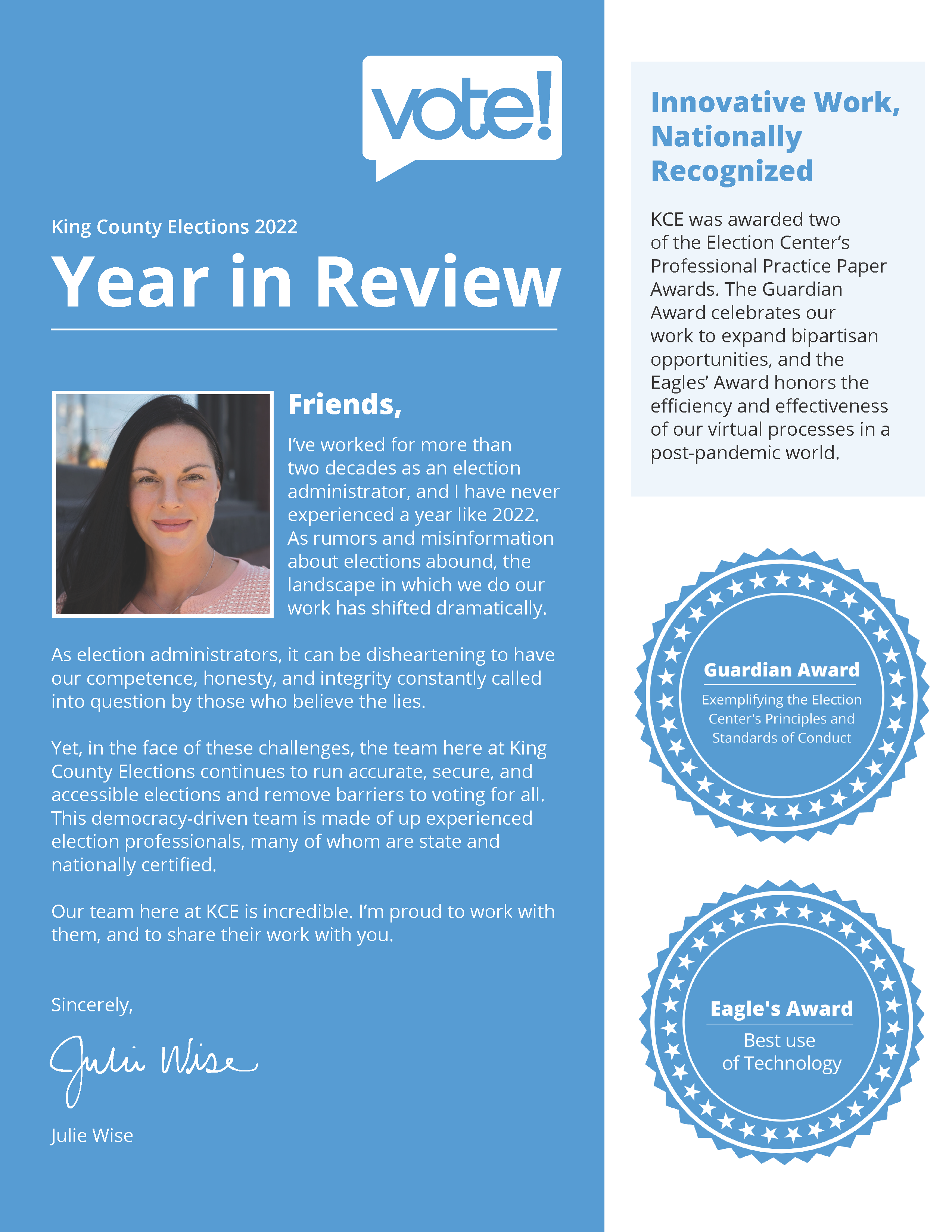 Download the 2022 Year in Review.
Sign up for email or text notifications