Experience and safety
King County Recycled Water is safe to use for almost anything but drinking.
Natural processes, filters, disinfection, and monitoring create recycled water
Wastewater treatment facilities mimic nature's processes to filter and clean used water just like a wetland. After traditional wastewater treatment, King County uses filters to create recycled water. We disinfect recycled water using a strong form of household bleach or ultraviolet light. We closely monitor and rigorously test recycled water before delivering it to our customers. King County's recycled water is "Class A."
Supermarkets are full of fruits and vegetables grown with high quality recycled water like ours
Two-thirds of the leafy greens for the United States are grown in Monterey County in California. Recycled water supplies most of the irrigation water for these crops, including for crops that are certified organic. King County's "Class A" recycled water is similar to the quality of water used in Monterey.
Recycled water is as safe as the lakes, rivers, and streams we swim and splash around in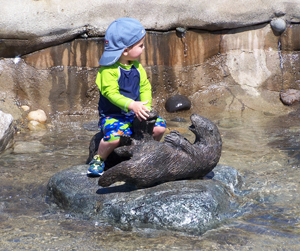 King County's recycled water is crystal clear and odor-free. It's safe for people and pets, even if it gets on a scrape or is accidentally swallowed. Like lake water, King County's recycled water is not treated for drinking. It's safe to use for other things.

In Olympia, Washington recycled water flows through the East Bay Plaza wading stream.
National experience and local research confirm safety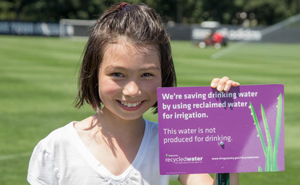 Recycled water has safely been used for irrigation on farms, school grounds, athletic fields, golf courses, parks, and neighborhoods for many years in the United States. There have been no reported cases of illness or allergies from its use for landscapes or agriculture. University of Washington studies confirm our Class A reclaimed water uses are safe for people and the environment.