How to get recycled water?
Contact us for more information about whether your project is ready for King County Recycled Water.
Customers can get recycled water from two King County recycled water systems – in Tukwila from South Plant and in Sammamish Valley from the Brightwater Plant. A third recycled water system in Carnation makes recycled water for a wetland only.

Most recycled water customers have water piped directly to their property. Some customers get recycled water at truck fill locations in Tukwila and the Sammamish Valley and drive the water where they need it.
Contact King County to discuss your project
Kristina Westbrook
206-477-5522
kristina.westbrook@kingcounty.gov

Our team will walk you through the steps
Initial information application
Contracts
Training
Signage
Site Modifications
Construction/Inspection


---
Recycled water availability
Our distribution season typically runs from March to October.
South Treatment Plant: March-October
Brightwater: May-October

Most of King County's recycled water customers are irrigators, so availability reflects the average growing season.

For information about year-round use, contact us at recycled.water@kingcounty.gov
---
Customers can truck recycled water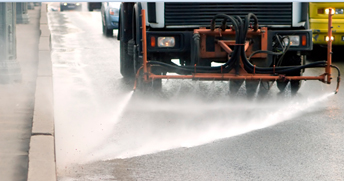 Recycled water is an excellent choice for projects that need temporary water that is trucked to the property. King County has two recycled water fill stations (see map). In King County, trucks carry recycled water for landscape restoration, small farms, street sweeping, construction sites, and other uses that require trucking.
---
Irrigation systems may need minor updates
Recycled water is distributed through separate pipes so it is not mixed with the drinking water supply. Purple is the official color that designates recycled water pipes. You do not have to replace existing systems, but they may need a few modifications, like these:
Use clearly visible "reclaimed water not produced for drinking" signs in irrigated areas
Put purple tags on valves
Paint above grade boxes purple or label them
Use purple sprinkler heads when existing sprinkler heads wear out
King County will work with irrigators to determine the most cost-efficient way to meet the requirements.
---
Talk to us about organic certification
Recycled water is used on organic crops in California, Oregon, and Florida. King County is working with the State of Washington to confirm recycled water meets the rules for organic crops here.
---
Use recycled water and keep water rights
Even irrigators who currently have a right to use water from a river, lake, or groundwater can work with on King County on cost-effective pricing. The State of Washington has programs that allow irrigators to use recycled water and preserve their legal water rights. The following websites have information and guidance: