Program Overview
Transfer of Development Rights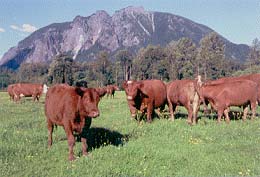 The right to develop land for residential or commercial purposes is one of a bundle of rights associated with land ownership. The County's Transfer of Development Rights (TDR) Program allows landowners of designated sending sites to separate the right to develop land from the bundle of other property rights. Sending sites are rural or resource lands with farm, forest, open space, or regional trail amenities.
Through TDR, the separated right(s) are turned into a tradable commodity that can be bought and sold – just as land can be bought and sold. When a landowner chooses to separate some, or all, development rights, the property is conserved through a conservation easement. A conservation easement can act to reduce landowner property taxes. Landowners can retain development rights on their property for future use and the land remains in private ownership.
These transferable development rights or "TDRs" are typically bought by developers of designated receiving sites. Receiving sites are typically properties in Urban areas eligible for increased density. The purchased TDRs give developers the ability to build additional houses, lot, or floor area that exceed base density allowed by zoning. The diagram below illustrates the basic TDR principle.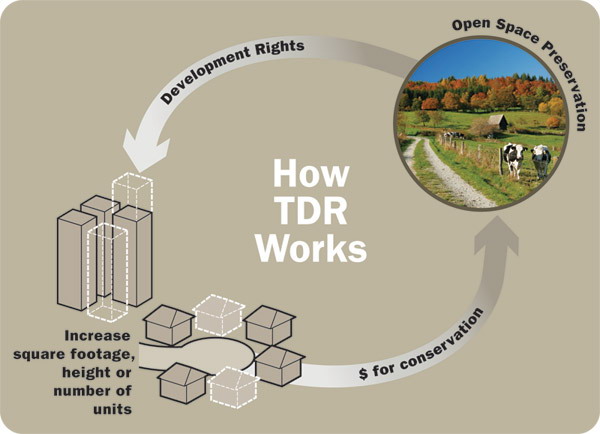 For information about TDR prices, transactions, and market trends, see TDR Market Information. To buy or sell TDRs, go to the TDR Exchange.
Benefits and uses of TDRs
If you are a developer interested in buying development rights for additional density in a project, the receiving site criteria will provide you information to see if your property is eligible as a receiving site and help you determine the maximum additional density you may qualify for through TDR. In addition to providing additional density at development projects, there are several alternative uses for TDRs. For example, TDRs can be used to allow larger accessory dwelling units.
Check out the TDR Brochure for more information about how TDRs can benefit development projects.
If you are a landowner interested in enrolling your property in the TDR Program as a sending site, review sending site criteria to see if your property is eligible to enroll, review the TDR enrollment process, and then download a TDR Program application. It is also possible to reduce your property taxes by transferring TDRs.
The TDR Program also has benefits for residents of King County:
1. Land that is important to the health of the local environment and the well-being of County residents is protected at no public expense.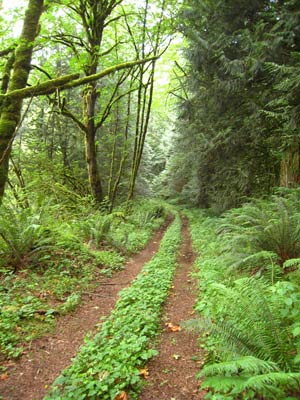 The County - and its taxpayers - do not pay the high price to buy land outright, nor do they incur long term management costs of the land if it were put into public ownership;
Land is permanently preserved and remains in private ownership and is managed by private landowners.
2. Development growth is focused into urban areas and away from critical rural and resource areas.
This creates more efficient development patterns and makes use of urban infrastructure to reduce the amount of development in the County's rural and resource lands;

TDR acts to reduce and minimize the significant costs to the County of providing services to rural development located far from urban services.

The TDR for Affordable Housing Pilot Program allows TDRs to be used to increase density at certain types of affordable housing projects.


From 1998 to 2022, over 145,600 acres of Rural and Resource lands (more than 228 square miles) have been protected from development through King County's TDR program, by relocating subdivisions for over 3,000 potential dwelling units out of the County's rural landscape and into its urban areas.
For more detailed information about the Program visit the King County TDR Code (KCC 21A.37).
To help you understand and participate in the TDR market, the King County TDR program offers:
For questions about the TDR Program, please contact Nicholas Bratton, TDR Program Manager, or Anne-Gigi Chan, Land Conservation Project Manager, King County WLRD Rural and Regional Services Section.