Farmers market managers resources
Behind the scenes at any farmers markets is a dedicated team of market staff, volunteers, boards, permitting agencies, landlords, food assistance programs, clean up crews, and, of course, vendors. At the center is the Farmers Market Manager. This vital job requires an ever-expanding skill set, timely information, and networking with city, county and state-wide partners.
The Farmers Market Managers "Online Info Booth" is a clearinghouse of key information and resources to serve the managers who make King County's over 40 farmers markets possible. These pages are designed to offer tools and resources for the market manager who works year round or for those who work seasonally or are just getting started.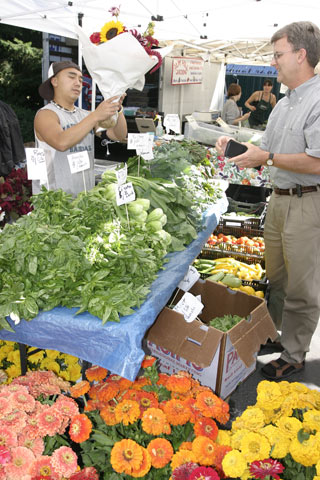 The site offers assistance with:
County contacts
Meetings and upcoming events
Trainings
Farmers Market Access Project
EBT, Credit/Debit Technology
Market Research and Data
Additional external resources
County Contacts
King County Market Manager Listserv
Who: Market Managers, advocates
Purpose: To share information easily.
To join: please contact Patrice Barrentine
Meetings And Upcoming Events
King County Market Manager Forum Meetings
King County continues to facilitate solutions to problems common to all farmers markets. The county's Agriculture Program organizes and facilitates quarterly Farmers Market Manager Forums that focus on regulations, marketing, and operational issues. These meetings provide an opportunity for managers to learn about health regulations and food safety practices. They talk with each other about marketing strategies, staffing and vendor issues, and business operations. The forum is particularly helpful for managers of new markets to learn from the experience of more seasoned managers.
For a schedule of the meetings, please contact Patrice Barrentine, (206) 477-1556.