Town Hall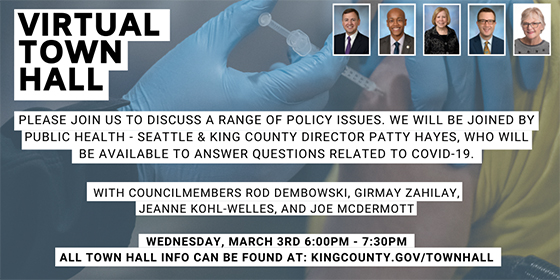 On March 3, 2021 at 6 p.m., King County Councilmembers Rod Dembowski, Joe McDermott and Girmay Zahilay and I will be hosting a virtual town hall and we want to hear from you! We'll be covering our County's vaccination efforts and continued COVID-19 response along with some of the big ideas before the Council in 2021 and your voice is essential. We will be joined by Public Health - Seattle & King County Director Patty Hayes.

Submit your questions for the town hall here.

The event will be livestreamed to the King County Council Facebook page at www.facebook.com/KingCountyCouncil/live. You do not need a Facebook account to participate.

If you have any questions about the Town Hall, please call my office at 206-477-1004.
Ballard District Council
I was pleased to join the Ballard District Council for a program on February 10th, alongside Sen. Reuven Carlyle and Seattle City Councilmembers Andrew Lewis and Dan Strauss. We had an informative and constructive conversation with Ballard residents about housing and homelessness, COVID-19 response, legislative updates, and more. Thank you, Ballard District Council, for including me, and if you haven't seen it, you can watch the recording here: https://www.youtube.com/watch?v=iAi3bVyYKwk
King County Coalition Against Hate and Bias Conversation
On January 28th, I was honored to join the King County Coalition Against Hate and Bias with my King County Council colleague Councilmember Rod Dembowski for a conversation on anti-racism work and activism. I thought it was a highly interesting and stimulating discussion with Matt Chan and Enrique Cerna among others speaking about intergenerational activism and how we can use the work of local civil rights icons (such as the Gang of Four including my dear friend and former colleague Larry Gossett who is the lone survivor, as well as Bernie Whitebear, Bob Santos and Roberto Maestas) as a foundation for continued change. I found the conversation to be very informative and moving, and would highly encourage viewing it if you haven't already: https://www.facebook.com/uiatf/videos/498781371519315
King County District Four Virtual Town Hall – September 17
King County Councilmember Jeanne Kohl-Welles will be joined by the County's Budget Director Dwight Dively, Director of Community and Human Services Leo Flor and Public Health Director Patty Hayes. They'll be discussing the County's biennial budget, COVID-19, social and racial justice and more. You'll be able to watch the event live on Facebook at www.Facebook.com/CMKohlWelles.

No Facebook account is necessary to stream the event.

You can submit questions for Councilmember Kohl-Welles and her guests ahead of time by emailing D4 staff at clara.manahan@kingcounty.gov.
LGBTQ Allyship's second annual north end housing fair
On August 29th, I participated in LGBTQ Allyship's second annual north end housing fair. The virtual resource fair was aimed at increasing LGBTQ+ invisibility, strengthening the LGBTQ+ community in the north end, connecting folks to resources and LGBTQ+ Friendly housing in north Seattle and to advocate for impactful housing policies and renters' rights.

I was joined by Councilmember Rod Dembowski and Shoreline City Councilmember Chris Roberts for a discussion on renters' rights, fair housing practices and much more. I'm grateful to LGBTQ Allyship for hosting the event and for inviting me to be a speaker.