Tolt River Corridor Planning and Capital Investment Strategy
Attached is the final
Tolt River Capital Investment Strategy
. It highlights the near-term, medium-term, and long-term actions that were identified in this planning process and that address a range of critical flood and erosion risks. The strategy was approved as policy guidance by the King County Flood Control District's Executive Committee in July 2017. Also attached are the
project location map
and the
implementation schedule
for the capital investment strategy.
Project overview
The Tolt River Corridor planning process, sponsored by the King County Flood Control District and the Snoqualmie Watershed Forum, focused on reducing flood and erosion risk and restoring habitat along the lower six miles of the Tolt River.
Flooding on Tolt River Road NE near the former San Souci neighborhood, January 2009
The corridor planning goals were to:
Reduce risks from flood and channel migration hazards.
Reduce long-term costs of flood hazard management.
Improve salmonid habitat and restore natural river processes.
Incorporate stakeholder and community input into the corridor planning process.
Earlier phases of the planning effort involved:
Characterizing existing physical, biological, and social conditions in the corridor;
Identifying the location, nature, and significance of flood and erosion risks and ecological conditions throughout the corridor;
Developing potential solutions to reduce vulnerability to flood risks and to restore habitat in the river corridor; and
Seeking input from stakeholders and property owners at key milestones throughout the planning process.
The outcome of this assessment of key problem areas and potential solutions is the Tolt River Capital Investment Strategy. This strategy proposes a sequence of coordinated projects to address the most critical flood and erosion risks and to restore habitat. It includes projects to implement during the next six years and the decades beyond. Potential solutions include road and bridge alterations, levee setbacks, and voluntary acquisition of floodplain properties.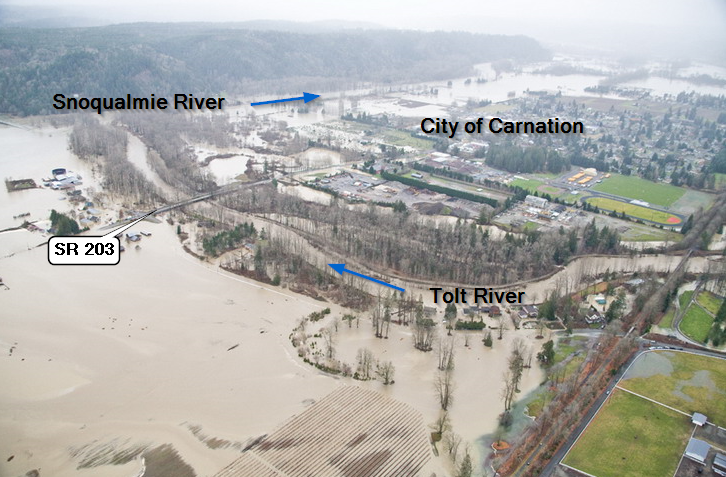 Tolt River near Carnation, January 2009
Project area
The plan focused on a six-mile stretch of the lower Tolt River, upstream from the confluence of the Tolt and Snoqualmie rivers near the City of Carnation. The study area extended to the end of Tolt River Road Northeast/361st Avenue Northeast.

This section of the Tolt River has significant flood and erosion hazards and is high priority for salmon habitat restoration. There are homes, businesses, and farms adjacent to the river in this six-mile area.
Public involvement
A goal of this project was to engage the community, especially those directly affected by floods and flood-related hazards in this area, and gather input about the long-term vision and priorities for the Tolt River.

Since 2011, King County staff have met with property owners one-on-one and in small, neighborhood meetings to gather input on flood-related concerns.

A public meeting was held on Jan. 15, 2015, to provide the community with more information about flood risk reduction and salmon habitat conditions along the Tolt River. Below are the meeting agenda and presentations and a summary of comments from participants. (Get Acrobat help.)

Also in January 2015 and December 2016, stakeholder workshops were held to get input from landowners, agencies, habitat restoration experts, first responders, and others on the Tolt Corridor planning process. Below are the PowerPoint presentation and a summary from the December 2016 public meeting.
Timeline
| | |
| --- | --- |
| 2011 - 2014: Project scoping and evaluation of conditions | Update the characterization of existing physical conditions, including flood and erosion risks, and floodplain and aquatic habitat quality. |
| 2015: Complete existing conditions characterization and gather public input | Complete existing conditions characterization and get public input on potential floodplain management actions to address flooding and habitat problems. Potential actions include setting back levees or removing them all together; acquiring property from willing landowners to allow the flood channel to move without impacting people; and altering or improving roads or bridges. |
| 2016: Propose draft Capital Investment Strategy | Identify key flood problem areas and develop Capital Investment Strategy with proposed solutions to address these key problems over the next six years and coming decades. |
| July 2017: Adopt Capital Investment Strategy and begin implementation | The Tolt River Capital Investment Strategy was presented to the Flood Control District's Executive Committee. The document, which highlights near-term, medium-term, and long-term actions the County should take to address identified risks, now provides policy guidance and direction to the County. |
Partnerships
This project was sponsored by the King County Flood Control District (external link) and the Snoqualmie Watershed Forum (external link)
Additional resources
For additional information, please contact Teresa Lewis, Snoqualmie/South Fork Skykomish River Basin Coordinator.

</figcaption="">
Sign up for announcements about this project