Tolt River Levee Level of Service Analysis
Overview
The Tolt River levees provide limited and unequal levels of flood protection. Some levees overtop during low to moderate floods, while others may not overtop until a severe flood. Most of the levees were constructed prior to the 1960s and do not meet current design standards. Therefore, the levees are prone to erosion, overtopping, and breach hazards. These hazards can threaten public safety, homes, bridges, and roads; including State Route (SR) 203, Northeast Tolt Hill Road, and Northeast 32nd Street. Sediment is accumulating in the lower two miles of the Tolt River, which will reduce the level of flood risk protection provided by the levees in the future.
The Tolt River Levee Level of Service Analysis will evaluate up to three level of service alternatives that provide increased flood risk reduction benefits and are consistent with levee setback and improvement projects identified in the Tolt River Capital Investment Strategy (Tolt CIS). The analysis will result in a recommended level of service for the Tolt River levees. It will also evaluate potential sequencing schedules for the capital projects recommended in the Tolt CIS. For more information on the Tolt CIS see link below.
The study will focus on the lower Tolt River south of the City of Carnation between River Miles 0.0 and 2.2.
Tolt River Level of Service Analysis Fact Sheet - 1.8MB PDF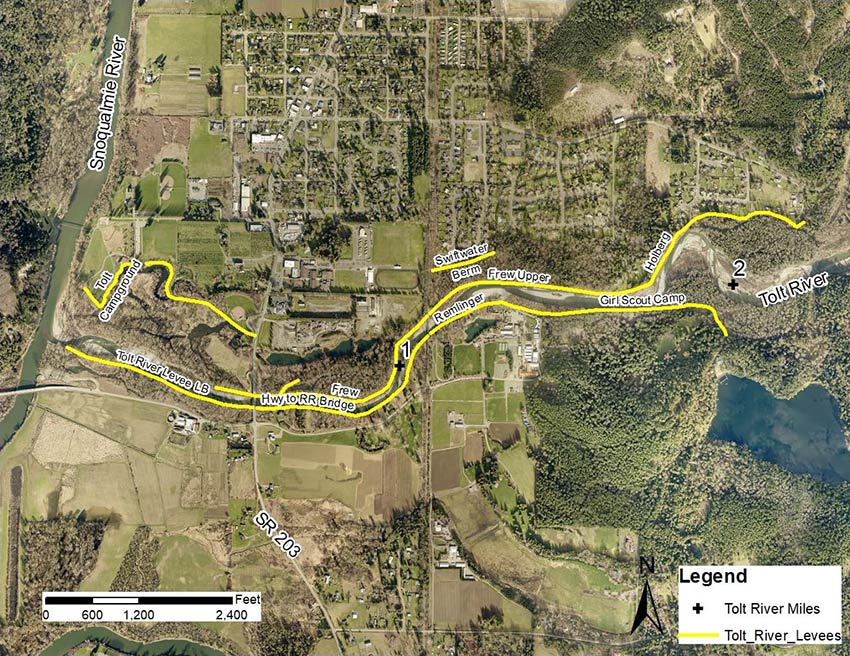 Goals
Develop a comprehensive level of service recommendation for the Tolt River Levee system between River Mile (RM) 0.0 and RM 2.
Engage with tribes, residents, landowners, the City of Carnation, and other interested parties to seek input on the level of service alternatives to be provided for the Lower Tolt River levee system.
Integrate the Tolt River Levee Level of Service Analysis with the two other concurrent studies on the Tolt River: the Tolt River Sediment Management Feasibility Study and the SR 203 Bridge Improvements Feasibility Study.
Timeline
| Benchmark | Date |
| --- | --- |
| Project planning | Early 2019 |
| Data collection and technical studies | Summer 2019 - Winter 2020 |
| Develop alternatives | Winter 2020 - Spring 2020 |
| Cost-benefit analysis of alternatives; future project sequencing | Spring 2020 - Winter 2021 |
| Draft study report | Winter 2021 |
| Finalize study report and share with public | Spring 2021 |
Links
Tolt River Corridor Planning and Capital Investment Strategy
About the King County Flood Control District
The King County Flood Control District is a countywide special purpose government created to protect public health and safety, regional economic centers, public and private properties, and transportation corridors. The members of the King County Council serve as the governing body for the District. The Water and Land Resources Division of the King County Department of Natural Resources and Parkscarries out the approved flood protection projects and programs for the District under an interlocal agreement. Information is available at the King County Flood Control District.
---
For more information about the Tolt River Levee Level of Service Analysis, please contact, Jay Smith, Project Manager, King County River and Floodplain Management Section, Water and Land Resources Division, Department of Natural Resources and Parks.