King County follows national research on recycled water and teams with the University of Washington to understand how recycled water works in the northwest. The results have been reassuring. Studies confirm our Class A recycled water uses are safe for people and the environment.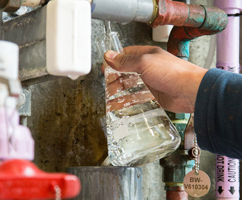 Healthy, safe plants
Recycled water contains nitrogen, phosphorus, and potassium – the same nutrients in fertilizer. Researchers found that plants grow as good or better when they are watered with recycled water compared to drinking water. And using recycled or drinking water makes no differences in amount of germs or metals in the plants or soil. Food crops grown with recycled water meet all federal safety standards and are safe for people to eat.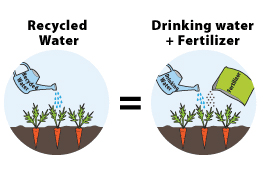 Recycled water has nutrients plants love – less need for fertilizer.
Good soil
Researchers found that using recycled water for irrigation helps the soil structure or "tilth." Recycled water does not cause salts to build up in King County soils because we have good quality natural water and lots of rain.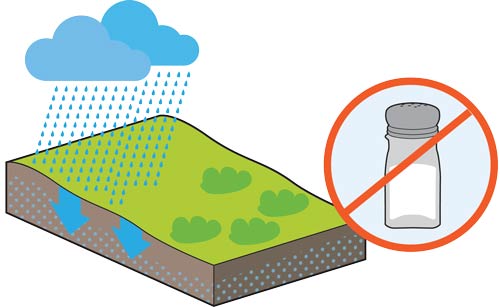 Here salt does not build up in soils irrigated with recycled water.
Some things don't break down
Wastewater treatment plants are designed to treat biological waste. Some things do not break down during treatment. So King County works with people and industries to keep chemicals out of the system in the first place.
Scientists can find very tiny amounts of shampoos, soaps and medicines in recycled water. Local and national research shows a person would have to work fields irrigated with recycled water for 28,000 years before being exposed to the equivalent of one tablet of ibuprofen. Learn more about a study on personal care products at www.watereuse.org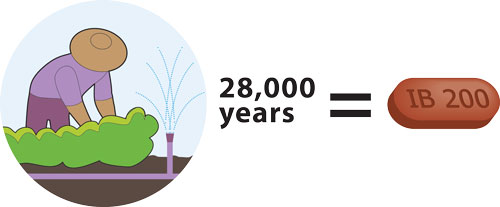 It would take 28,000 years to get a dose of ibuprophen from working with recycled water.
For more information about the Recycled Water Program, please contact us at:
201 S. Jackson Street, KSC-NR-5512, Seattle, WA 98104
206-477-5557