King County Metro's budget provides safe, equitable, and sustainable service now and in the future — especially where needs are greatest.
The King County Council adopted Executive Dow Constantine's 2021-22 biennial budget in November 2020 and 2021-22 mid-biennial budget in November 2021.
2021-22 Budget highlights
2021-22 biennial budget (passed November 2020)
Providing reliable Metro bus, Access paratransit, Water Taxi, and vanpool services.
Purchasing battery electric buses and advancing Metro's journey toward a zero-emissions fleet.
Continuing progress on RapidRide G, H, and I lines (serving Seattle, Burien, and south King County, respectively).
Updating and improving service for the three Link light rail stations (University District, Roosevelt, and Northgate) opening in fall 2021.
Working with community to reimagine our transit police, fare enforcement and security.
2021-22 mid-biennial budget (passed November 2021)
Funding for several new RapidRide bus lines to serve areas including Delridge, Madison and Renton/Kent/Auburn, aligning routes and other services with Link expansion and continued investment in electric buses.
Continue providing food delivery services for people with disabilities, people with lower incomes and seniors. Metro will work with relevant community partners and will use its existing Access paratransit and Community Access transportation programs so long as this work does not interfere with meeting passenger demand.
Accelerating the future RapidRide K Line (Bellevue and Kirkland) and the RapidRide R Line (Rainier Valley). Metro will proceed with community engagement, design, hiring, planning and project delivery.
About Metro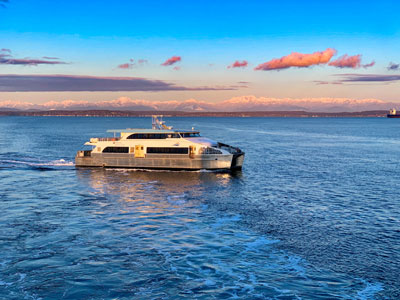 The largest public transportation agency in the Puget Sound, King County Metro provides bus, paratransit, vanpool and water taxi services, and operates Seattle Streetcar, Sound Transit Link light rail and Sound Transit Express bus service.
Metro was named Best Large Transit Agency in North America by the American Public Transportation Association in 2018, and received Performance Excellence Awards for equity and for sustainability in 2020. In 2022, the Federal Transit Administration recognized Metro as the nation's most equitable agency in tackling climate change.