History of Stream and River Monitoring Program
The King County Major Lake and Stream Monitoring Program is designed to protect the significant investment in water quality improvement and protection made by the people of King County beginning in the 1950s. At that time wastewater flowed largely untreated into Lake Washington and Puget Sound and many rivers and smaller lakes, fouling water and making local beaches unusable. Shortly after Metro was formed in 1958, construction began on two of the county's regional treatment plants, West Point in Seattle's Magnolia neighborhood and South Treatment Plant in Renton, which were officially up and running by 1966. By the late 1960s, regional water quality began improving dramatically.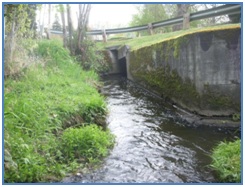 Photo of Thornton Creek
The improving water quality was an important milestone and was tracked by this program. Continued ongoing monitoring is important to understand if new problems are appearing that can impact water quality and thereby the health of people who use our regional waters. The long-term environmental impacts of all types of pollution that affect the quality of lakes and streams can only be evaluated by sampling at multiple sites throughout the watershed.
In 1994, King County assumed authority of Metro and its legal obligation to treat wastewater for 34 local jurisdictions and local sewer agencies that contract with King County. The County also assumed responsibility for continuing the monitoring of these surface waters.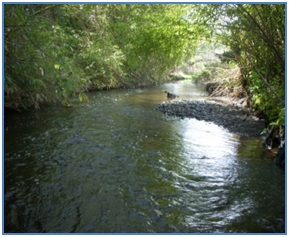 Photo of Swamp Creek
For many of the sites in the Stream and River Monitoring Program routine water quality analysis began as far back as 1976. Parameters analyzed in the routine water quality samples include conventionals (flow, temperature, dissolved oxygen, pH, conductivity, turbidity, total suspended solids, nutrients (phosphorus and nitrogen) and fecal coliform bacteria. Sediment quality monitoring began in 1987 and was updated with a ten-year program in 2004. Parameters analyzed in the sediments included heavy metals and organic contaminants such as pesticides. In 1987, wet weather samples were added to the program and were collected three to six times annually at the sites located at the mouth of streams.
In 2009, much of the funding for the streams monitoring program was cut. Prior to the 2009 program reduction there were 56 water quality stations in WRIA 8 and 9, and 3 stations on Vashon Island and approximately 30 sediment monitoring locations. Currently the routine water quality monitoring program includes 20 stations throughout WRIA 8 and 9, 3 stations on Vashon Island, and 11 stations in WRIA 7. The sediment and wet weather programs were eliminated.
Benthic macro invertebrate sampling was added to the monitoring program in the 1990s. Once each year these insects are collected from many stream monitoring sites throughout the County. All benthic invertebrate samples collected in the region can be viewed on the Puget Sound Benthos web page.
The data from the stream monitoring program are analyzed with the following objectives:
Characterize the general water quality status of the stream
Determine if applicable State and Federal water quality criteria are met
Identify long-term water quality trends