Lake Services and Information
Look up individual lakes in King County
Recreation
Small lakes recreation guide
Your one-stop resource for information that will help you enjoy and use dozens of beautiful small lakes in King County.
Boating regulations fact sheet - King County
Learn about speed limits, personal flotation devices, operation of personal watercraft, motorized boat bans and other restrictions on specific King County Lakes.
Swimming beach water quality
Subscribe to water quality alerts or weekly status of freshwater swimming beaches across King County:
Lake water quality
Lake maps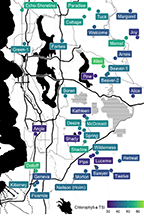 Hydrography - interactive map
Note: this link will open a new browser window
Zoom in to your area of interest. In the layers list, click "Hydrography" and the layers you need such as "Lakes and large rivers."
King County lakes map (734 Kb Adobe Acrobat)
This color map includes cities as of December, 1999; lakes, lake names in western King County, rivers, and streams.
Lake resources, guides and references
Learn about King County's program to protect shorelines, promote public access, and establish priorities for shoreline uses for the county's large lakes, rivers and Puget Sound.
Lake history
Lake programs
Related information
Related agencies
News and announcements
King County's young noxious weed hunting hero
Aug. 3, 2020
External article, Seattle Times
King County beaches closed for fecal bacteria — can we cry fowl and blame Canada geese?
Jan. 27, 2020
From trash to treasure:a clean and lean idea helps the Lake Geneva community



Oct. 21, 2019
External article, Seattle Times
6,000 pounds of dog poop a day: Kirkland locked in dirty war
Jun. 17, 2019
External report, KING5 News
Is that algae safe? How to identify blooms in Washington waters
Spawning Grounds trailer
Documentary about restoring kokanee populations in Lake Sammamish and its tributary streams, by restoring habitat.
Apr. 23, 2019
On Earth Day, Executive Constantine presents Green Globe Awards, the region's highest honor for local environmental efforts