East Lake Sammamish
Frequently Asked Questions
Public Communications
King County has established a robust public outreach program to engage the community in the design and construction process of the East Lake Sammamish trail. The public outreach program includes:
•
A 24/7 hotline – 1-888-668-4886
•
On-site meetings with adjacent property owners;
•
Weekly updates during construction;
•
Monthly updates during design;
Specifically for South Sammamish Segment B, in 2017 during design, King County posted the 60% design plans on the project website for review and comments. Project team members were available and public outreach staff were on-site and stationed at Sammamish City Hall to meet with homeowners and trail users to provide clarification of the trail design and to document comments and concerns. In conjunction with trail design criteria and technical findings, the project team reviewed and considered all feedback received while advancing the trail design. King County provided individual responses to all comments received and posted them to
our website
.
To provide clarification to adjacent property owners and assist in communication, King County surveyed and staked the proposed trail centerline and the limits of the trail corridor in the fall of 2016. Many of the corridor boundary stakes have been removed; however, the centerline stakes are in place and are painted pink for easy identification. They are located within the existing interim trail.
During trail construction, weekly construction updates will be posted to the project website and will include upcoming construction activities. Also during construction, Public Outreach Staff will be on-site to provide clarification, notifications, and listen to comments and concerns from adjacent property owners and trail users.
You will find many ways to stay informed about the ELST project. Adjacent property owners, trail users and other stakeholders are encouraged to communicate with the project team through the project hotline and/or project email.
•
The 24/7 Project hotline: 1-888-668-4886 and Project email:
ELST@KingCounty.gov
will serve as a direct link to the Project Team.
•
The 24/7 project website:
www.kingcounty.gov/eastlakesammamishtrail
will serve as the information hub and will be updated frequently with design plans, project information, notifications and weekly updates during construction.
•
Project Team members will be available by contacting the project hotline or project email if you would like to:
o
Put your name on the list to receive project updates thru gov. alert or email;
o
Ask questions with regard to the project;
o
Obtain current or upcoming information regarding trail design or construction.
•
The Project Team will also be available to listen to and document comments and/or concerns.
•
Look for upcoming project newsletters to stay informed of current design and construction activities.
•
Look for gov. alerts that provide current project information and notifications.
Trail Development (general information)
•
The new paved trail will have the highest degree of accessibility for people of all ages and abilities.
•
The ELST is currently an 11-mile "missing link" in a 44-mile-long regional trail corridor that will connect the Burke-Gilman Trail, the Sammamish River Trail, the Marymoor Connector Trail and the Issaquah-Preston Trail, linking Seattle to the Eastside and the Cascade foothills.
•
The trail will provide greater access to recreation, employment and retail in the cities of Redmond, Sammamish, and Issaquah; and provide a multi-use path for bicyclists, pedestrians, joggers, and skaters of all ages and abilities.
•
When complete, the new trail features a 12-foot-wide paved surface with two-foot gravel shoulders on each side and a one-foot clear zone (18 feet total) to accommodate expected traffic increases.
•
The trail also includes enhanced intersections and wetlands, improved drainage, new fish-passable culverts, and extensive native landscaping.
View of Lake Sammamish from the North Segment of the East Lake Sammamish Trail
After the Burlington Northern Santa Fe Railway (BNSF) stopped operating in 1996, the Cascade Land Conservancy acquired the corridor in 1997. King County then purchased the corridor in September 1998 from the Cascade Land Conservancy and began a robust public involvement process to help guide development of the trail.


The ELST is a "railbanked" corridor under the National Trails System Act (see 16 U.S.C 1247(d) and accompanying regulations at 49 C.F.R. 1152.29). When a rail corridor is railbanked, trail use of the corridor is authorized by federal law and the corridor is preserved for possible future reactivation of rail service. Regardless of how the underlying property interest was obtained by the railroad, whether by deed, federal land grants, or adverse possession (a method of obtaining land through possession and use), federal "railbanking" authorizes interim trail use in the corridor. On April 20, 2016 a United States District judge
ruled
King County possesses all property rights in the trail corridor previously owned by BNSF. King County has sufficient property interests to build, operate, and maintain a trail on the ELST corridor.
Permitting and Review Process
•
You may review the design plans on the ELST project website. They are available for review at any time at www.kingcounty.gov/eastlakesammamishtrail. While there are no other formal processes for submitting comments, you may contact the project team through the project hotline or project email if you have questions or if you need additional information,
•
King County followed the City's formal review process as identified in the City of Sammamish's application for the Substantial Shoreline Development Permit.
•
The ELST Project Team reviewed, evaluated and responded to all comments received on the Shoreline Development Permit and any other comments submitted to the project hotline or email.
Trail Construction
Trail safety is King County's top priority. Due to the extensive scope of work within the narrow trail corridor and the limited trail access, the trail will be closed to the public during construction. Closing the trail allows the County's contractor to engage in multiple activities concurrently, which will result in an efficient and expeditious construction schedule. Completing this critical project quickly and safely will minimize impacts to trail users and adjacent property owners.
Constructing the trail is challenging and difficult due to the narrow corridor, limited trail access, and steep topography. Additionally there are seasonal constraints on construction near streams, construction of retaining walls, mitigation and landscape planting and redevelopment of the intersections. The South Sammamish B segment is particularly challenging due to the close proximity to adjacent private property and the large number of intersecting driveways and property access points along the trail.
Construction crews working on a closed portion of the East Lake Sammamish Trail
Utilities and Drainage
During the design process, King County identified the location of existing utilities based on field surveys, record drawings from utility companies, and information provided by adjacent property owners. King County encourages adjacent property owners who have concerns or information about underground utilities near their property to submit them to the project team through the project email at
ELST@kingcounty.gov
Every effort is being made to locate all utilities prior to the start of construction. Once construction begins, the contractor will call for utility locates on the project. After the utilities are marked, the contractor carefully excavates or vacuums holes to find the exact location of the utilities prior to any excavation activity.


If a utility is damaged during construction, the contractor will repair or replace the utility immediately and according to the contract specifications.
When designing the trail, King County follows the King County Surface Water Design Manual and City of Sammamish Surface Water Design Manual Addendum. The intent of these documents is to ensure best management practices are implemented and are appropriate for the soil and groundwater conditions. Additionally, adhering to these documents reduce the potential for the project to adversely impact existing drainage and downstream properties.
The City of Sammamish manages all concerns related to storm water or drainage. If a trail neighbor reports an issue to King County, it is logged and then forwarded to the City of Sammamish. King County encourages residents to continue reporting storm water and drainage issues to the
City of Sammamish Storm Water Management Program
.
Driveways, Private Roads, and Parking
King County is committed to a trail design that has minimal impacts to adjacent property owners though parking spaces may be reconfigured. Private parking is not ordinarily permitted on Parks property. However, after trail construction, an adjacent homeowner may contact King County Parks about obtaining a Special Use Permit. Such requests will be approved only in limited circumstances (e.g., where parking does not obstruct park users or emergency vehicles).
The trail design for South Sammamish A and South Sammamish B does not include narrowing Sammamish Shore Lane. The depth of existing nose-in parking will be reduced in some places in South Sammamish B. This area may also function as a turnaround location for delivery trucks and emergency vehicles. The design plans are submitted to Eastside Fire and Rescue for their review and approval to ensure the project meets the emergency access needs.
Safety is King County's highest priority. Intersections are designed to allow trail users and vehicles crossing the trail to clearly see one another. Sight distance triangles for the East Lake Sammamish Trail are calculated from the perspective of the intersecting vehicle. Vehicle sight distances are based on national standards outlined by AASHTO in A Policy on Geometric Design of Highways and Streets, 2011 (Green Book). A detailed explanation of how King County determines site distance triangles and why other standards are not used is available for review or download on the project website: www.kingcounty.gov/eastlakesammamishtrail, under South Sammamish A or South Sammamish B / Project Guides / Sight Distance Triangles.
Example of of poor sight triangles at and intersection vs. improved sight triangles at an intersection
Landscaping and Vegetation
Trees
King County is committed to preserving significant trees along the trail whenever possible. Trees provide natural habitat for birds and wildlife, and shade and screening for trail users and adjacent properties. Building a wider trail that is safe for all users does require removing some significant trees.
As defined in the Sammamish Municipal Code, significant trees are coniferous trees with a diameter of 8 inches or greater and deciduous trees with a diameter of 12 inches or greater at breast height (DBH), or approximately 4 ½ feet above ground.


King County Parks shares your sentiment regarding preserving existing trees and our policy is to avoid impacting significant trees whenever possible. However, there are a number of factors that determine the trail alignment including building the trail within a narrow corridor, steep terrain, and avoiding impacts to environmentally sensitive areas as required by state, local, and federal regulation. Accommodating the wider trail to meet these criteria does require removing some trees to build a trail that is safer and more accessible to people of all ages and abilities. The County's contractor will remove only the trees necessary to build the trail or trees that are unhealthy or pose a safety risk to the public.


King County does not remove, limb or top trees to provide views of the lake from the trail corridor.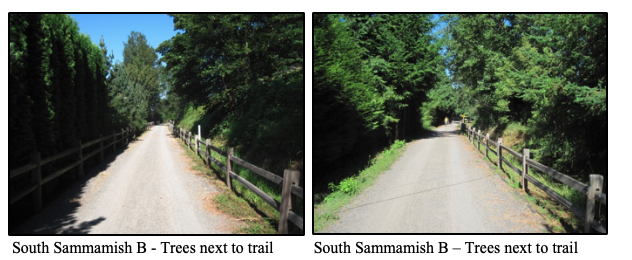 South Sammamish Segment B- in this 3.6-mile segment, approximately 275 significant trees are planned for removal. King County will apply the same approach to South Sammamish Segment B as was applied in all of the other trail segments. King County is proposing to plant over 1,400 trees, 8,500 taller shrubs, and 14,000 lower shrubs and plants, including the planting of approximately 3.25 acres of wetland, wetland and stream buffer, and shoreline setback area, improving and creating new wildlife habitats.
Streams and Wetlands
In 2018, King County Parks and the City of Sammamish took action to protect and restore the Kokanee salmon population by replacing three culverts on Zackuse Creek. The new culverts provide access to over a mile of upstream spawning habitat for the kokanee and other fish species.


King County continues to coordinate with Sammamish and the Lake Sammamish Kokanee Work Group. During construction of South Sammamish Segment B, eight fish passable culverts will be installed. Several of these improvements will be occurring on streams identified by the work group as the highest priority for Kokanee.
The North Sammamish segment included construction of five fish passable culverts.
Examples of fish culverts along the East Lake Sammamish Trail
The Environmental Impact Statement (EIS) Section 3.4.6 discloses potential impacts to wildlife. Provisions for allowing wildlife passage at intervals along the trail include: the use of split rail fencing adjacent to environmentally sensitive areas such as wetlands and streams, intersecting driveways, and gaps between the fences. The EIS is available for review or download on the project website at
www.kingcounty.gov/eastlakesammamishtrail
.
With growing communities fragmenting our once connected ecosystems, King County is committed to reconnecting these essential habitats wherever possible. The natural environment you experience along the trail is the result of careful planning and placement of native trees and shrubs, wildlife habitat logs, rocks, snags, and brush piles. This deliberate choreography of these natural elements provide scenic views, new habitat for wildlife and helps reconnect ecosystems divided by the Parkway and surrounding development.
Based upon comments received from the City and adjacent homeowners, the trail alignment has been shifted to the east (towards the Parkway), as much as possible. This change resulted in additional impacts to the critical area buffers requiring more mitigation. The City expects this mitigation to be done on site.


Low quality wetlands and jurisdictional ditches:
Wetlands are regulated, not only by the City, but also the U.S. Army Corps of Engineers (the Corps) and Washington Department of Ecology (Ecology). When these features are delineated, approved methodologies by the Corps and Ecology are used (consistent with City requirements)—with a focus on the three criteria of vegetation, soils, and hydrology (inundation or soil saturation near the surface).

J

urisdictional ditches are features that do not meet the criteria for wetland, but they are hydrologically connected to surface waters (waters of the US). The Corps also regulates jurisdictional ditches.
The City, Ecology, and the Corps have a wetland mitigation sequencing that starts with avoidance and then minimization before moving to compensatory mitigation. Based upon input received from the City and adjacent homeowners, the County used the following approach in developing a mitigation strategy for ELST;

Impact wetland buffers closest to the trail in order to protect trees and screening vegetation on the west side of the trail (water side). This approach and as part of the review process with the City, the compensatory buffer mitigation will occur onsite— adding buffer to existing regulated buffer areas at approximately 1:1 ratio and enhancing existing regulated buffer at approximately 1:1 ratio.
Avoid any wetland fill. Although many of the wetlands are a lower class of wetland, they are still providing important functions such as regulating water quantity and improving water quality. Additionally, the Corps and Ecology require compensatory mitigation for wetland fill to meet higher ratios, requiring more land for mitigation in an already tightly constrained area.
Avoid other jurisdictional ditches. The vegetation in these ditches slows and filters the water that flows through them. Because of space constraints, relocating and replacing the jurisdictional ditches in kind is not possible.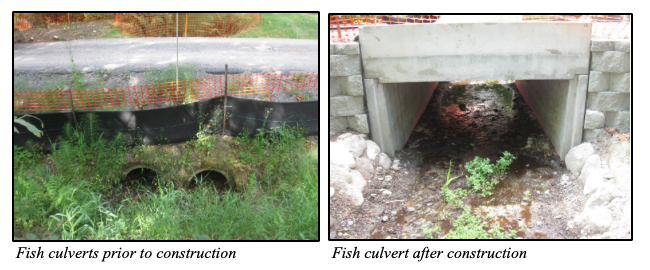 Intersections
Trail safety is a top priority for King County. The new trail has been designed to meet all applicable engineering and safety standards. The trail design clearly identifies intersections with consistent signage, striping, and bollards. Safety design features include:
Providing open sightlines for trail users, motorists, and pedestrians crossing the trail;

Provides a visual and textural difference from the asphalt trail by constructing concrete intersections;

Warning trail users of approaching intersections with textured concrete warning bands 75 feet ahead of each crossing;

Identifying intersections clearly through consistent signage, striping, and bollards.
View of an improved intersection from the North Segment of the East Lake Sammamish Trail
Trail Signage
Yes. King County has designed the ELST (East Lake Sammamish Trail) to regional and national trail safety standards, as defined by the American Association of State Highway and Transportation Officials (AASHTO) and Policy on Geometric Design of Highways and Streets, 2011 (Green Book). The stops signs presently located along the gravel trail will be removed during construction and will not be replaced because do not meet these standards. In particular, the 2012 AASHTO guidelines provide that stop signs and other intersection controls should follow the principle of providing the least amount of restriction that is effective.


Consistent and appropriate signage will be installed at all intersections and along the trail as part of trail construction. Additional information regarding the appropriate placement of stop signs can be found on the project website at:
www.kingcounty.gov/eastlakesammamishtrail
, under South Sammamish A or South Sammamish B/project guides/Stop Sign Usage.
Trail Safety and Etiquette
Safety is King County's highest priority. When complete, the new trail will feature a 12-foot-wide paved surface with two-foot gravel shoulders on each side and a one-foot clear zone (18 feet total) to accommodate expected traffic increases.
The new trail will also feature enhanced intersections and crossing treatments, improved sightlines, warning bands before each intersection, and consistent signage.


King County Parks works closely with the Cascade Bicycle Club and has a contract with the King County Sheriff's Office to provide heightened awareness and enforcement of trail rules on all regional trails. All trail users must obey the posted speed limit and obey the Model Trail User Code of Conduct (King County Code Section 7.12.295) posted along the trail corridor.


Any suspicious activity should be reported to the police by calling 911 emergency services. Residents may also consider contacting the Sammamish Police Department to form a community block watch program.


Based upon feedback received from many adjacent property owners, the landscaping plan includes taller shrubs and trees to provide privacy screening, wherever possible.
King County Parks will continue to work closely with the King County Sheriff's Office to monitor trail use and enforce off-leash dog ordinances along the trail corridor.


Additional pet waste stations and trash receptacles will be installed along the trail corridor. King County maintenance crews empty the trash receptacles and fill the pet waste stations on a weekly basis. Other ongoing maintenance activities along the trail corridor include:
Mowing and trimming;
Clearing of leaves and other debris with additional spot blowing on bridges and high traffic areas;
Drainage maintenance and repair;
Inspection of trail signage for repair/replacement, split-rail fence repair, and filling potholes.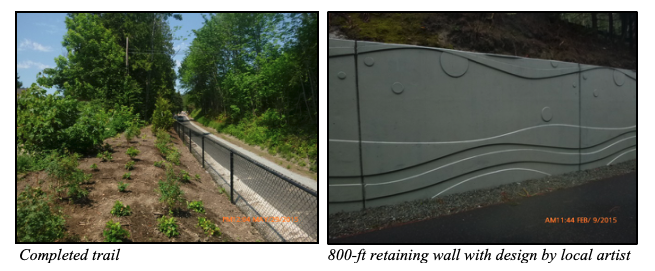 Project Funding
The Engineer's Estimate for South Sammamish B is $23.5 million.
Funding for the ELST South Sammamish Segment B is provided by the 2014-2019, voter-approved Parks, Open Space and Trails Levy and the 2020-2025, voter-approved Parks, Open Space and Trails Levy.
SHARED ITEM ERROR /sitecore/content/Sites/services/parks-recreation/parks/Globals/SharedItems/notice