Facilities
West Point Treatment Plant
Conveyance pipelines, pump stations, and wet weather treatment plants keep wastewater moving from houses and businesses in the Seattle and Shoreline areas to the West Point Treatment Plant for treatment and resource recovery.
Wet weather treatment facilities
These facilities are part of the combined sewer system and can be used for treatment during heavy rains when there are large volumes of water in the sewer system.
Pump stations
Pumps stations, also often referred to as lift stations, are responsible for 'lifting' the wastewater up and allowing it to flow back into the gravity conveyance system. Some pump stations do apply pressure to a conveyance pipe—those sections of pipe are referred to as force mains.
Conveyance pipelines
Side sewers can also be called lateral sewers and are found on private property. These pipelines are the responsibility of the home/property owners and are generally 4–6 inches in diameter.
Local sewers are managed by cities and water districts. These pipelines move water between private property and the regional sewer system. These pipes are generally between 6 inches and 3 feet in diameter.
Regional sewers are managed by King County—they collect the water from the cities and water districts and move it to treatment plants for treatment and resource recycling. These pipelines can range from 2 feet to 14 feet in diameter.
Combined sewer system
A combined sewer system collects stormwater and wastewater in the same pipe. This design was common in the early 1900's and most large cities are old enough to be combined sewer systems. In King County only parts of Seattle are connected to a combined system. All other cities and many parts of Seattle are on a separated system: stormwater flows directly to surface water (lakes, rivers, Puget Sound) and wastewater flows to treatment plants.
Learn more about:
West Seattle Pump Station
View more photos on our Flickr site .
Sewer inspection—King County Wastewater Treatment Division (WTD)
from King County DNRP on Vimeo .
Contact us
24-hour emergency and odor reporting: 206-263-3801
Administration: 206-477-9800

Address
1400 Discovery Park Blvd.
Seattle, WA 98199
Directions and map
Related content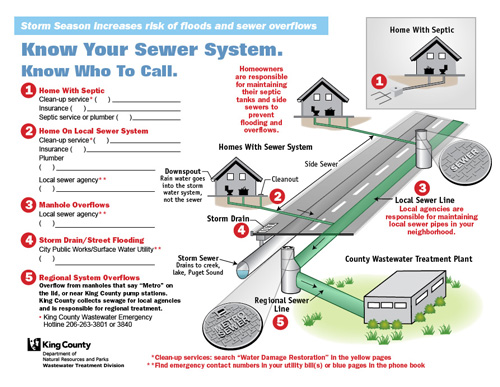 Know your sewer system—know who to call. Download this fact sheet and record emergency contact numbers in case of a sewage overflow.