Vanshare
Your first/last mile solution.
We have shared commuter vans that connect you to a transit center/park & ride or from a transit center/park & ride to your worksite—vanshare is your first/last mile solution to getting to and from bus, ferry, commuter and light rail or vanpool—and for getting the last mile or so to your worksite or school destination from your transit stop.
Find a Metro Vanshare
Look for a Vanshare along your route
Enter complete home and work addresses below for the most accurate list results. Visit RideshareOnline.com to create and view custom trip lists with additional search filters, personal trip calendar, and available rewards.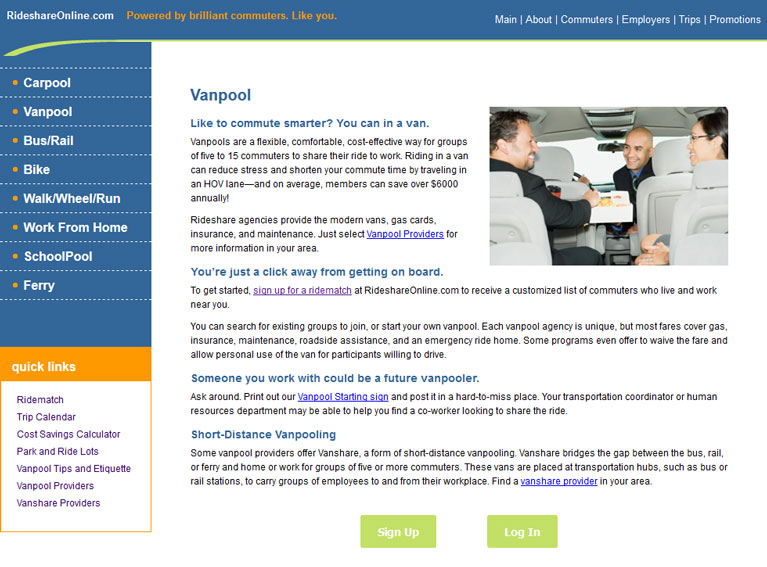 Create a profile
Go to RideshareOnline.com to create a profile and search for Vanshare groups. When you find a Vanshare match, contact the listed coordinator to confirm seat availability, route and schedule to see if it is good fit.
Start your own Vanshare
Recruit four or more members (at least two drivers and a bookkeeper), agree on group details (parking, route, schedule, etc), and we will follow up with next steps!
Connect with Rideshare
Local Calls: 206-625-4500
WA Relay: 711
Fax: 206-684-2166
Mailing Address:
Rideshare Operations
KSC-TR-0812
201 S Jackson St
Seattle, WA 98104-0770